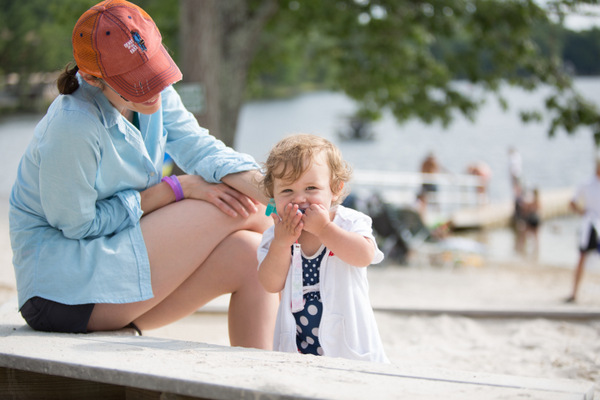 We're in the dog days of summer and that means, the weather is a little bit hotter and the nights are just a bit cooler.
We've been thinking, what does the word fun truly mean?
According to Merriam-Webster, fun means "an enjoyable time" and "the feeling of being amused and entertained."
To us, Woodloch means fun!
Here at Woodloch our version of fun is taken to a whole new level! We're dedicated to family fun in the Pocono Mountain region of Pennsylvania. Have you heard about our leading activity programs? Whether you're returning to Woodloch or you're about to experience your first trip, we'll make sure you enjoy your family vacation to the fullest extent.
What can you do with your family in the Poconos? Well, sit back and read on… Here are three reasons our resort encourages summertime, family fun!
Keep Your Eyes and Ears Open
You won't be bored on your next visit to Woodloch. Everywhere you turn, you'll find something new to try. Get in touch with your theatrical side for an experience you won't forget.
Check out our fantastic Broadway style Theme Show and nightly entertainment the whole family will love. You'll enjoy musical numbers, beautiful set designs, and great dancing on stage. Our theme this year focuses on the wonderful world of television. The small screen wouldn't do this big production of bright lights in the Poconos, justice.
Ab muscles beware before heading to see one of our acts featuring comedians and jugglers, because they'll keep you laughing for days! If you're looking for a roaring good time, these comedians will have you rolling in your seats laughing. A few of these entertainers are Chris Ivey, David Darwin, John Cassidy, and Ned Gelfars.
Did you know that Woodloch has also featured some comedy heavyweights; guys like Ray Romano and Tom Cotter cut their teeth in the Woodloch Nightclub!
Woodloch means fun, and fun means Woodloch!
Along with our amazing troupe of comedians and jugglers, have you seen our magicians? Or it's possible that you… haven't? They disappear on us sometimes!
Anthony Salazar, Jay Mattioli, and John Graham will delight you with their illusions and mystical imagination.
A Little Competition Never Hurt Anybody!
Bring a sense of playful competition to your family at Woodloch. As we're in the midst of celebrating this Olympic season, Woodloch showcases its own brand of international games. Unite as a family by tackling big team events and see who goes for the gold!
Enjoy the thrill of discovery, athleticism, and competition? Then you'll want to try our Amazing Races and Scavenger Hunts with your family. Sometimes all it takes is a little family bonding, over healthy competition, to experience what FUN in the Poconos is all about.
Are you a trivia-family? Then check out Woodloch Feud. A Family Feud style event, where brains and wit come together! We might not have Steve Harvey to host this event, but we'll make sure fun is number one on the list.
It's Summer Fun All the Time
There is honestly so much to do at Woodloch that even this blog can't contain it all! As the days get warmer, slide into the lake and cool off.
Enjoy some summertime fun with the whole family while it lasts. Our lake offers quite a few fun, there's that word again, summertime activities. Try out kayaking, canoeing, or even water skiing for the more adventurous. Paddle boating is a great option to see the fall colors, once the leaves start changing.
While the lake may not be your favorite swimming hole in the winter (though ice skating is pretty rad), you can still make a big splash in a number of our indoor pools. Our Kiddie Splash pools will be a big hit for the littlest members of your family, but there is plenty of fun for everyone in our larger pools and hot tubs.
Plus, we even have our new indoor corkscrew slide!
There is so much to do at Woodloch, your nights and days will be filled with family, laughter, and most of all, fun.
F is for friends and family!
U is for you (you = U) and me… at Woodloch!
N is for a-N-y time and a-N-ything at all (yeah, you get the point), here in the Poconos Mountains!
Bringing friends and families together is what we know best (and we've been doing it for 60 years now), and TripAdvisor.com agrees… being voted the #1 Family Resort in America has been an honor. Stop by with your family and experience the warm hospitality of an exceptional Poconos Family Resort.