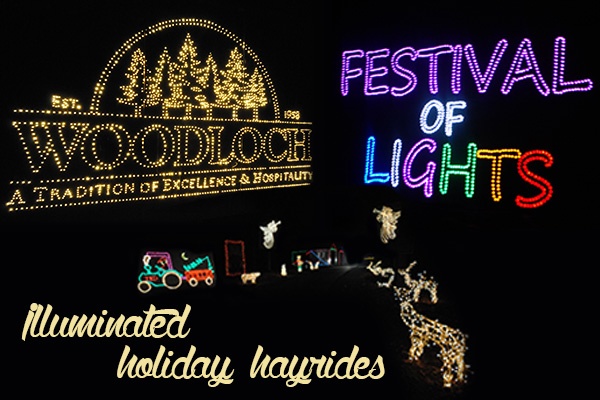 ~Shared by Joseph J. Ranner
Our waterski boats no longer sit in Lake Teedyuskung. We spend a few extra minutes each day to defrost thin layers of ice off of our cars. And we all pine for that extra cup of coffee or hot chocolate. To quote House Stark… "Winter is coming."
Yet we find a way to get through these long nights. In the spirit of the holiday season, strands of lights are strung from eave to eave of our houses, providing a much needed glow when we crave it the most.
Holiday decorating has been a proud tradition for Woodloch Pines since opening in 1958. Our main lobby, dozens of trees, bannisters, shrubs and everything in between are instantly illuminated on Black Friday, the day after Thanksgiving. That is also the debut weekend of our famous "Festival of Lights" rides along our mile-long nature trail.
From a staff standpoint, the most impressive part of all of the decorating is how much of it actually goes on behind the scenes. Weeks beforehand, my fellow co-workers are crafting wreaths, testing bulbs, building structures, and ascending skyward on lift trucks so that the tree lightings go off without a hitch. The prep work for the holidays begins just as soon as we begin our first Haunted Hayrides of the season in early October. It's a lot of work, but there's something to be said about smiles on everyone's faces in the warm glow of the lights.
Our Festival of Lights has steadily become bigger and better. In addition to thousands of lights, we now use pyrotechnics and computers to enhance guest experience. All in all, the experience amounts to about half-an-hour of illuminated joy through a dozen scenes on our nature trail. And if you're good boys and girls, Santa Claus just might show up… speaking of which, St. Nick and his crew are taking their talents to Broadway as we present our first-ever "Holiday Revue!" Come experience this exciting and uplifting performance, only available from December 2nd through 19th!
This is really just the beginning of all the fun times that await you this holiday and winter season at Woodloch. Scavenger Hunts, kid's parties, Yule Log Hunts and our fiercely jolly Gingerbread Wars all await! So bundle up, relax, and hang a shining star upon the highest bow. The holidays at Woodloch will soon be here…
Woodloch is Home for the Holidays! from Woodloch Pines on Vimeo.