It seems like just yesterday, I was an out of control 8 year old, decked out in my Teenage Mutant Ninja Turtle costume, attacking my little brother with a pair of plastic nunchucks. Hopped up on Tootsie Rolls and Pixie Stix, Halloween was simply the best day of the year for me.
Over 20 years later… I still feel the same way.
And it's not just the day itself that excites me. Much like the stretch between Thanksgiving and New Year's known as "THE HOLIDAYS," the whole season leading up to Halloween is simply a great time. Apple picking. Cider. All of that beautiful Pocono fall foliage. And making that all-important costume decision… it's ironic that a season famous for zombies and vampires makes me feel so incredibly alive. 
And I know I'm not the only one sipping a pumpkin spice latte in my Ugg boots thinking about it. As a matter of fact, I am grateful that my employer shares the same sort of enthusiasm that I have for the holiday… and even bumps it up to 11.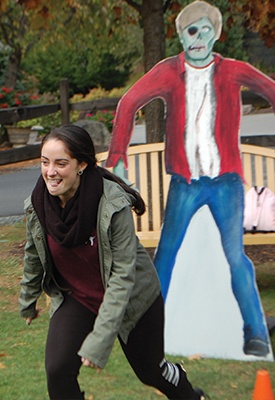 Woodloch's "Hallo-Weekends" all start off with a bang. Right after dinner time (because there's nothing scarier than an empty stomach) we start to board our wagons for our world-famous "Haunted Hayrides"– a spooktacular thrill ride all along our Nature Trail. Summertime guests got a special "sampling" of Halloween hijinx this year with Woodloch's "Fright Night" Scare Walks. "We wanted to let our summer guests know what we do for Halloween," says Joey Ranner, Social Director. "The response was great- and everyone can expect the scares to get bigger and badder for our hayrides."
Ghouls, goblins, werewolfs and all sorts of terrors await you along your 30 minute-plus ride… will you be bold enough to make it?  Makeup, lighting, pyrotechnics and more will make you feel like you're trapped in your favorite horror movies. Hot chocolate and plenty of laughs await those souls brave enough to make the journey!
Hopefully you'll get a good night's sleep, because the rest of the weekend is jam-packed with seasonal activities!
Chase down the gold medal with our brand new "Scare-lympics" games- a spirited take on our classic Olympics!
Pumpkin Arts & Crafts
Trick-or-Treating all across our resort followed by a grand Halloween party in our Nightclub
And an epic battle is on its way to our resort… a HALLOWEEN WAR, that is! Our famous Cupcake Wars are getting "in costume" for the season as pumpkins, corn, straw, gourds and apples all find their way into our "secret ingredient" list!
And of course, suffice it to say "that's not all." The cooler weather is perfect for some go-carting, paintballing, rock climbing, archery tag or just warming up by the fire pit. If you haven't had the opportunity to explore Woodloch in this season, it truly is a delight- missing out would be… scary. 
Spooktacular Haunted Hayrides at Woodloch from Woodloch Pines on Vimeo.