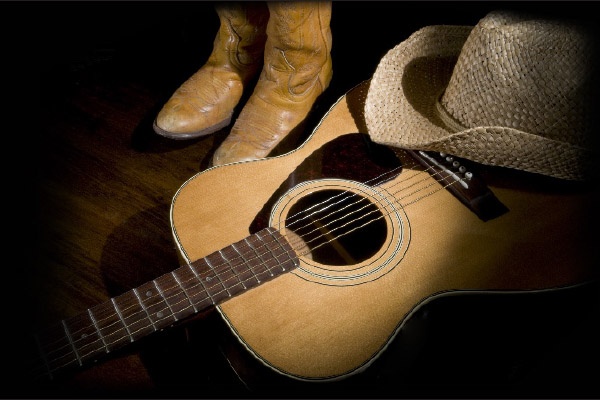 ~shared by Joseph J. Ranner
"True country music is honesty, sincerity, and real life to the hilt."
– Garth Brooks
For as long as I can remember, music has always been very important to my life. Between always hanging around my musician brothers and always having my Sony Walkman and eventually iPod at my hip, there was always a song in my head.
And my musical tastes went in phases along with my life. I was all about Will Smith during my middle school days (don't pretend that you weren't getting jiggy with it, either), coped with teenage angst with punk rock, and spent my college years with lots of Pearl Jam and alternative music (because that was the "hip" thing to do). But never, and I do mean NEVER, was I a country music fan.
Until one day, it all changed.
I'd found myself just a little bit stressed out from some things at work and happened to hear a Zac Brown song called "Chicken Fried." A simple song, but the music was quite beautiful and actually seemed to put life into perspective for me. Things clicked, and that really was the beginning of it all. Way led on to way, and the next thing I knew country music had become one of my favorite musical genres.
And I realized I wasn't alone. It turns out a very large amount of Americans also enjoy country music- including many of our guests.
Jon D'Agostino is a long-time Woodloch guest that has a huge passion for country music. So much, in fact, that he actually owns a real-life Nashville publishing firm on the world-famous "Music Row," Demolition Music Publishing. "Music has always been a passion of mine," says John. "Of course, I love listening to the final product from performers like Luke Bryan, Miranda Lambert and Rascal Flatts. Many of these acts, however, perform songs written by professional songwriters. For me, there's a definite thrill of knowing the real inspiration and stories to these popular songs that are all over the radio. The writers are somewhat unsung heros."
On one fateful visit, John met with Joey (Woodloch's Activities & Social Director). The conversation naturally drifted towards their shared passion of music, and the duo mused about ways to "bring Nashville to Woodloch." Ideas snowballed into something that will end up being a very special time at Woodloch: our first ever "Nashville Songwriters Weekend."
During the weekend of November 20th – 22nd, Woodloch is honored to be welcoming songwriters for some of the biggest country acts out there today- including Blake Shelton, Tim McGraw and Jason Aldean. Guests will be entertained with a very special "Storytellers" event where the REAL tales behind your favorite tunes will be told.
And even better? Music's next great songwriter might be found… right here.
Over the years, we've actually discovered that many of our guests are VERY talented and musically inclined. We've had singers floor audiences during our Woodloch Idol and Woodloch's Got Talent competitions. Many great team songs have been performed for points during our Scavenger Hunt contest. "Putting all of this together, we thought this was the PERFECT time to create our first ever Woodloch Songwriting Competition," says Joey. "We've heard some exceptional voices here, but there's also been a lot of great original music that has been shared. I'm excited to see how this pans out." Not only will the winner(s) receive a free stay at Woodloch, but they'll also be able to have the eyes and attention of our songwriters. Click here for all the details and rules.
And that's NOT all. It simply wouldn't be a real country weekend without other special events! Bonfires, line dancing, Southern BBQ and bourbon sampling will bring the SOUTH… NORTH for the weekend. "Who knows- the next big name in music might just be enjoying our famous crumb cake in the dining room," says Joey.
Come meet writers like Jimmy Robbins, who helped pen this tune for the great Blake Shelton!