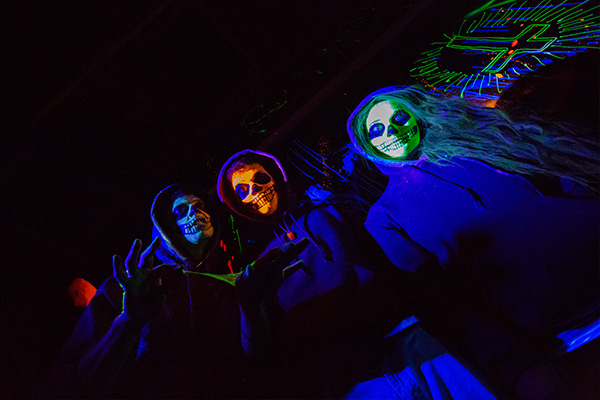 ~shared by J. Ranner
We can thrill you more than any ghost would ever dare try.
There are plenty of beautiful things about Pennsylvania's Pocono Mountains in the summertime. Sprawling forests. Various wildlife. Shimmering waters. By day, it's simply "Paradise on Earth."
Then the sun goes down. And we might as well be at Camp Crystal Lake.
Beautiful canopies now shield light from cascading onto the forest floors. Who knows exactly what (or who) is responsible for that rustling bush. Screeches and growls coming from all sorts of directions… it's getting kind of nerve-wrecking.
So naturally, since we do LOVE our guests so much, we thought we'd have some fun with this.
We're very excited to announce that for the first time EVER, Woodloch will be kicking off our brand new "FRIGHT NIGHTS" in July. Those brave enough to dare enter our HORROR-ble Trail will traverse a mile of "walk thru" scares and shenanigans. "Our Haunted Hayrides are always very popular in the fall," says Joey Ranner, Social Director. "We thought we'd bring a smaller version of them to our summer guests who may not have had a chance to experience them yet."
The first ever Fright Night will be an exciting conclusion to summer Mondays starting July 13th. The day will start with our brand new "Sci-Fi" games at the athletic field and continue with our brand new "Music Carnival" and "Dessert Wars." As the sun sets, all ages are invited to our North Lodge lawn complete with a bonfire, petting zoo, tailgate games and live music for the evening. Of course, we encourage the brave and bold to head up to the trail and take the walk!
If you can't catch our brand new fright nights, remember- we've already started plotting- err, I mean "planning" – our 2015 Haunted Hayrides. And I think I speak for all of us when I say it is an honor, a privilege and a joy being able to scare happy people on their vacations.
See you all in the woods…