~ shared by Tammy Compton
"In this troubled word, love shines," said Joe.
How right he is!
A faithful friend of Woodloch, Joe and wife, Mary, of Valley Stream, NY, had read Woodloch's recent blog on Operation Christmas Child (O.C.C.) and felt the need to give. That donation, compiled with others, totaled $270; it was coupled with 42 gift-filled shoeboxes from Woodloch staff and family members for children living under desperate conditions: ravaged by war, poverty and famine.
Since it started, O.C.C. has shipped millions of boxes around the world, making true the thought that love isn't love until you give it away.
Franklin Graham, the eldest son of Ruth and Billy Graham, who heads up Samaritans Purse, O.C.C.'s parent organization, shared: "The best way I know to share my feelings about Operation Christmas Child is to wrap it in this thought: When one hundred million prayers are lifted to heaven for one hundred million boxes that will be given to one hundred million souls, might Jesus lean up on the edge of His throne and say, I have used these gifts given in My name to open the children's hearts, and My offer remains to all who come seeking, for I will answer. This was a celebration for what God had done through Operation Christmas Child. But He's not done yet. The greatest journey has many more miles to travel and many more souls to reach—and we'll continue telling a story of simple gifts."
The following excerpt from the book Operation Christmas Child, shares the story of one life changed.
"Ross and Carol, volunteers with Operation Christmas Child, had visited a children's cancer ward at a hospital in Zagreb. When they stepped into the last ward, a nurse pointed them to an 11-year-old boy. He had been blinded by shrapnel and had been unresponsive for weeks. 'Is there anything you can do?' they were asked.
Ross and Carol looked at each other and then stepped out into the hallway. 'What can we give a blind child?' they asked? 'He won't be able to see anything,' Carol said. 'Ross, can we pray?' Immediately, they laid their hands on the remaining boxes and prayed, 'Lord, You know this boy's needs. Would You give him spiritual sight so that he knows You care for him? Help us to select just the right box where surely there will be something that will open his heart. Amen.'
Picking up one of the larger boxes, Ross walked to the boy's bed. Through an interpreter, Ross explained why they had come – that people in America and Canada had packed gifts as an expression of God's great love. The boy seemed unresponsive. Ross tried to guide him to open the box. Still no reaction. Ross finally lifted the lid, his heart racing, 'Lord, please let there be something that will break through.'
Always a master wordsmith, Ross couldn't speak when he saw the Walkman cassette player with a headset. He lifted it out of the box, installed the batteries, inserted a Christian tape also from the box, and tenderly positioned the headphones over the boy's ears, then clicked the player on.
There was instantaneous reaction. The boy smiled, then his eyes began to move. He responded with great joy. Those standing around were rejoicing because God had answered so specifically."
That's what true love does – it soars. It's the epitome of the divine definition: "Love bears all things, believes all things, hopes all things, endures all things." True love never dies.
It's that very compassion that has Woodloch reaching out once again with its "12 Days of Giving" of which Operation Christmas Child is included.
What began just three years ago, has gained momentum. The 12 Days of Giving focuses "on the true spirit of the holidays – the spirit of giving back."
"Year after year, Woodloch feels very fortunate to be in a position to give back to those who need it most during our 12 Days of Giving effort. We recognize the giving spirit that prevails during the holidays is contagious, and our hope is always that others catch on and contribute in their own ways. Kindness and generosity are what the world needs now more than ever," explains John Kiesendahl, owner and CEO of Woodloch Pines.
12 Days of Giving has only grown and expanded since its original creation, and the team at Woodloch Pines has developed new ways to give back to the local, national, and even international community. The exciting additions are listed below:
Brightening Birthdays – With the help of the national organization Volunteers of America, Woodloch will be throwing a birthday party for some very deserving children at a New York City homeless shelter. Woodloch staff will organize and play games with the children as well as provide decorations and baked goods from the resort's very own bakery.
Hero Appreciation – Woodloch staff will spread holiday cheer and offer thanks by bringing homemade baked goods to fire stations in Long Island, NY.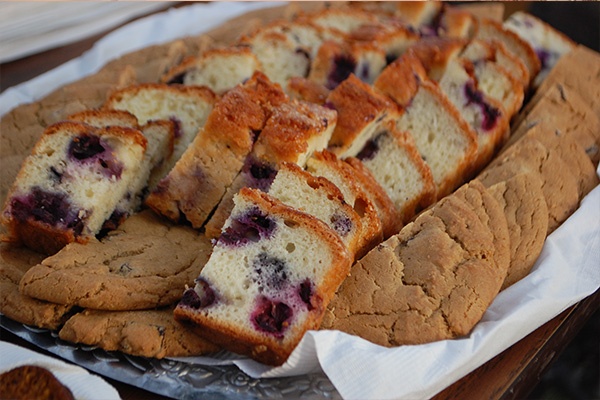 Children's Hospital of Pennsylvania Arts & Crafts Drive – Woodloch's Social Department will collect donated arts and crafts supplies for children being treated at Children's Hospital of Philadelphia.
Ronald McDonald House Dinner – Members of the Woodloch team will go to the Ronald McDonald house in Scranton and prepare a homemade meal for 20 residents of the home.
Salvation Army Coffee Drop – The Woodloch Social Staff will be stationed outside the local Salvation Army location, handing out hot coffee and Woodloch Bakery sweets to workers, shoppers and donors.
Operation Christmas Child – Shoeboxes filled with shoes, toys, and school supplies that Woodloch staff has been collecting will be delivered to children around the world.
Winter Clothing Drive – Woodloch Pines staff has set up collection boxes around the resort to gather new and gently used winter clothing items, such as coats, hats, boots, and gloves, which will go to shelters in the local area.
Angel Tree – Staff members can purchase holiday gifts for children in need by choosing anornament from the tree, located in the staff lunchroom.
Show on the Road – The Woodloch Crew will perform a strolling Christmas show through a local senior center.
Thank an Employee – The Woodloch Family will reward randomly selected employees with a few extra dollars for the holidays.
Fill Up Gas Tanks – Woodloch staff will hand out Mobile gas cards to unsuspecting drivers who pull into The Market at Woodloch to fill up.
Cooking Class– The culinary team at Woodloch Pines will be providing a cooking class to local senior centers from the Hawley, Hamlin, and Honesdale areas. Avery Bus will provide transportation to Woodloch Pines for all participants free of charge.