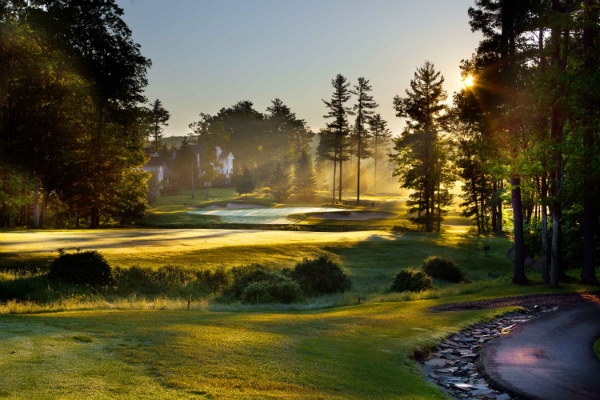 ~shared by Chase Borden
"A perfectly straight shot with a big club is a fluke" –Jack Nicklaus
Another summer is upon us in the Pocono Mountains. The winter was long and brutal and it is time to break out the clubs again here at Woodloch Springs Country Club. I have spent many years on this golf course and it seems that a lot of players are getting caught up in the hype of the game. Everyone has to have the best of it all, big clubs, nice shoes, and a low handicap. It seems as though everyone has forgotten a key part of the game… relaxation.
On occasion, I'll have the group of golfers come off the course, scorecards blank, but smiles on their faces. "How did you play?" I always ask. "How do you think?" is usually the response as they work their way to the Grille Room to get another round of beers. It is times like that I really enjoy it here at Woodloch Springs. The people who come on a great family vacation to forget about all that hype. Those are the people who really know how to golf in my opinion; that group of guys who just goes on a weekend getaway, that wedding party who is just getting to know each other but end up being family by the end of the round, or that family reunion group who seems disconnected at the start of the round and are inseparable by the end.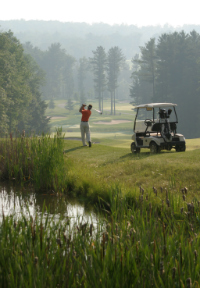 Too many times, I have seen someone get too worked up about their golf game and come off the course more stressed than when they went out. This seems odd to me with all the course has to offer, even if I do have a poor round, I know I really got to spend some time out in the freshest of air and normally with some quality friends. Besides there is always a frosty beer waiting for me in the Grille Room, that keeps my spirits high. Any guest who comes in with a frown on their face, I remind them of the things that they need to take into perspective when they play their second round the next day.
Take a few breaths of that Pocono Mountain air before you take a swing

Take advantage of those hours of complete peace and quiet

A sand trap is not actually a trap, it is just a golfers beach
The time spent with your family is always time well spent
And lastly, would you rather be at work?
The golf course can almost wake up your senses to take a moment each day, when you are not on this weekend getaway, to appreciate everything around you, even when things are not going so well. Don't get caught up in all that hype, remember why you are out there, to enjoy yourself and the company you are with. The Pocono Mountains is a place of peace and serenity and this can even be found on one of the areas toughest golf courses.
Golfing at Woodloch is more than just a game… from Woodloch Pines on Vimeo.