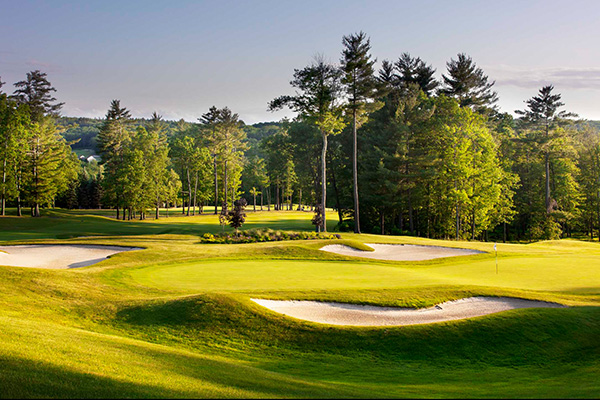 ~shared by John Pillar and Jeff Hugaboom
Cue the David Bowie tune- ch-ch-changes are on the way at the Country Club at Woodloch Springs.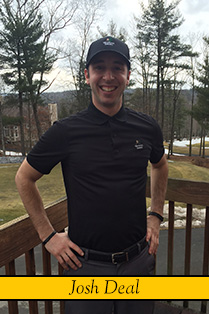 It all starts with personnel at the Clubhouse- we will have a few exciting additions to our golf team this year! Josh Deal has taken over the role of Head Professional and most of the daily operations duties. Josh had worked for us in 2012 & 2013 and was a perfect fit for us at Woodloch. His fun outgoing personality has left a lasting impression and we look forward to him providing outstanding service in all areas.
Prior to joining the team, Josh spent time as a PGA Apprentice at such well-respected clubs as New Haven Country Club in CT, Grayhawk Golf Club in AZ, and The Manor Golf and Country Club in GA. Josh is a Connecticut Native and a proud UCONN Alum. He looks forward to serving you this 2015 golf season!
Jason Kuiper will be joining the professional staff at Woodloch Springs as the Director of Instruction. His most recent position was at Orange Lake Resort as the Head Teaching Professional at The McCord Golf Academy as well as a Golf Operations Manager. He has been in that position since 2009 where he worked through the PGA program obtaining Class A membership in 2011.
His love for the game brought him into this industry in 2003 as he worked at Shawnee Inn and Golf Resort in Pennsylvania. It was there that he took on different roles from service staff all the way up through teaching professional before moving to Florida in 2008. He decided to make golf his career after completing an undergraduate degree in Business Management from Millersville University in Lancaster, PA in 2006 and a Masters of Business Administration from Moravian College in Bethlehem, PA in 2008. He currently resides in Davenport, FL with his wife Lindsay and their dogs Eva and Chip.
Course wise, we are off to an exciting and challenging start to the 2015 golf season. Last fall we hired The George Ley Company to start a bunker renovation project on 9, 18, 8, 17 and 3. We focused on green side bunkers, fixing drainage, replacing sand, reshaping and removing sand traps. Removal and reshaping of the sand traps will not only improve the golf experience, it will grant the maintenance crew additional hours to focus on other areas of the course.
The winter was not kind to the northeast. Ice and cold temperatures resulted in injured greens from Philadelphia northward. The maintenance crew was proactive throughout the winter removing snow and melting ice with black sand. We were able to minimize but not prevent all damage to greens. Some greens have relatively small areas of damage or none at all, number twelve is heavily damaged. We have created a temporary green in order to minimize traffic and facilitate healing. The greens have been aerated and damaged areas have been seeded. We have ordered a topdressing sand specifically mixed to encourage recovery. The sand is mixed with dark organic material for heat absorption and water retention, and fertilizers to stimulate growth. In addition, twelve will be covered to further accelerate healing time, and will reopen as soon as possible. The chipping green was not aerated and will be used to patch damaged areas on the course. This process will start next week, and will make a big improvement to the damaged greens. With warm beautiful weather on the horizon, we anticipate a lightning quick return to pinnacle conditions.
Lastly, with the arrival of golf season comes the return of all those great tournaments. In addition to golfing with star athletes of tomorrow and paying homage to true American heroes, 2015 will feature a brand new tournament for both golf and soccer fans alike. Our first ever "Foot Golf Invitational" will be held Monday, June 29th. We are excited to host this one-of-a-kind event on our course!
Our entire team is excited to provide a season of new and entertaining golf events for the season and we hope you all participate in the FUN!
Here's to a great 2015 for everyone- see you on the links!