~shared by Joseph J. Ranner
One of the most important lessons I've learned growing up was discerning between "needs" and "wants." When you're younger, it takes a few experiences to learn why purchasing a car is more worthwhile than a jet pack (in most cases, anyways). After years and my share of ridiculous purchases, I like to think that I can fairly assess the difference between things I need and things I would just like to have, as most adults would.
I'm here to tell you that adults can still be wrong . . . especially when it comes to vacationing.
While some of us make vacationing a routine habit, others are not as easily persuaded. There's always "better" ways to spend the time and resources, right? And that's where "rationalization"- and guilt- come in.
Which, if the medical research serves us correctly, is the complete wrong way to look at things. Don't get me wrong; I'm a proud American, and I know that this country is great because of a lot of HARD WORK. Yet at some point, the "workaholism" turns toxic. Shying away from taking a break will slowly but surely poison your body, mind, and relationships.
I know, I know- I can hear you already. "My job is just way too important. Can't take any time off. Too bad, so sad- end of story." Personally, unless your career involves single-handedly saving the world from incoming asteroids or extraterrestrial invasions, I respectfully disagree (And even Superman has the whole Justice League to back him up… no excuses).
Being able to afford a vacation is another issue in itself, yet less of an issue than one may think. To break down the financial abilities to travel:
Two-thirds of Americans really do have the means to travel.

50% of Americans have the money to travel and simply choose not to.

Only about 27% of Americans routinely take vacations.
(Source: Dr. Glenn Braunstein)
So in other words, we've become stubborn and guilty. This all goes into effecting your overall wellness. If you're on the fences at all about traveling in the nearby future (yet lack a modified DeLorean), maybe we can convince you to do the right thing.
For the body…
It all comes down to alleviating stress… "the silent killer."
Vacation can improve cardiovascular health with lower risk of heart attack and stroke. Men who skip vacations for five consecutive years or more are 30% more likely to suffer heart attacks than those who took at least one week of vacation each year. Similar studies have reached the same conclusion for women. Further, an annual vacation can cut the risk of heart disease by up to 50%. (Source: Alena Tugend)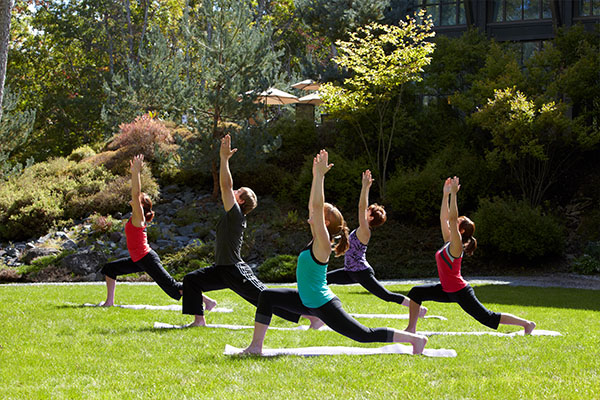 Lower stress levels may be linked to slower "aging." Your chromosomes are much like a length of rope; the more turmoil in your life, the strands start to fray and shorten, leading to accelerated outward signs of aging. When you see someone who looks haggard and old, especially at a young age, it's a telltale sign of a stressful life. Thus making that effort to vacation at least once a year can keep you looking and feeling good.
With a plethora of amenities and activities that are sure to get the blood flowing, there's no better place to get some good ol' fashioned cardio than Woodloch. Biking, hiking, rowing, and even skiing are available on or nearby. Games like our Olympics and Race Against the Clock get you on your feet, running around and smiling all on your quest for the gold medal- what's not to love?
Even a little bit of time on the golf course will stretch out the legs a little bit and get your joints limbered up.
For the mind…
For those who have visited us (and those who haven't), Woodloch has the benefit of being more or less a hidden gem. We are secluded in the Poconos, yet only a two hour drive from the hustle and bustle of the world's greatest city. This is a huge benefit to you.
By deciding to take a vacation, you are given the opportunity to leave all of your problems at home. A simple change of environment gives you the perfect chance to look at things as objectively as possible, without the routine day-to-day distractions.
And what's more… you can actually take the opportunity to EXPAND your horizons- do the things you always wanted to, but found excuses not to. Want to rediscover your long lost love of the culinary arts? Enjoy an intimate cooking demonstration with one of our chefs. Desiring to break free from the concrete jungle and enjoy the REAL wild? Paddle up and experience an inspiring journey downstream with a kayak excursion. Quench your thirst for adrenaline with couple's zip lining. All of this is just a small part of the AWAY experience you can treat yourself to at Woodloch.
Traveling (and even better, scrapping the cell phones, laptops and concerns of the outside world) will provide a "respite effect" that will ultimately help a weary brain relax… and allow you to catch up on some much needed sleep!
With that clear mind, you can obtain fresh perspectives on things… and along with that, new and creative ideas for when you eventually (but not too quickly) return to the "daily grind."
For the soul…
If I could tell young people to prepare for anything in life, it would simply be "prepare to be surprised." Things change, often quickly and with little to no notice, and we simply have to go along with them. That is why every time there is an opportunity to make something good happen, for the love of Pete, TAKE IT.
Our personal relationships- particularly the ones with the closest people in our lives- greatly benefit from taking that trip. According to a recent study by The US Travel Association:
Women who take more vacations are ultimately more satisfied with their marriages
42% of travelers feel "more romantic" on vacation
53% of vacationers return back home feeling "more connected with family."
So… arrange that getaway. Watch that sunset with the wife. Try that food you've always wanted to. Find inner peace with a little Tai chi. Leave no wine untasted. At the end of our lives, I think we'd all feel a lot better if our "I'm glad that I did's" outnumbered our "I wish I would have's."