~shared by J. Ranner
I don't know about you, but I find it very hard to keep myself out of mischief during the month of October.
The temperatures are just right for fun outdoors. Wine & beer festivals, plenty of college football tailgating, apple picking, corn mazes and pumpkin patch shenanigans are all just begging you to come out and play. This all culminates in what is certainly (in my modest opinion) the most magical day of the year: HALLOWEEN!
Mr. Rogers, Sesame Street and Barney the Dinosaur all taught us this lesson well- you are the one and only you, and that's just great. But for one day a year, let's break some rules. Let's be WHOMEVER we want to for one night only. Dress up as your favorite celebrity. Suit up as your childhood hero. Throw on a tiara and let the world know that you are, in fact, a princess.
But with so many choices… where does one even start? If you're as pumped for Halloween as we are but need a little help collecting your thoughts and finding that perfect Halloween costume… maybe we can give you a few ideas and inspirations!

Whether you've ordered a few "Shirley Temples" or just needed a friend to chat with, Wes has been a staple in our bars for years. What you may not know is that he is ALSO a costume genius. His proudest moment? "That would have to be when I dressed up as The Artist Formerly Known as Prince," says Wes.
Social and Activities manager Patrick once dressed as a "chick magnet." "I was literally a magnet with Barbie dolls glued to me… it was pretty funny," says Pat (a man can dream, right?). Of course, you can always catch him in character during our Theme Night greeting line and during our games (the flying monkey from The Wizard of Oz was a classic.)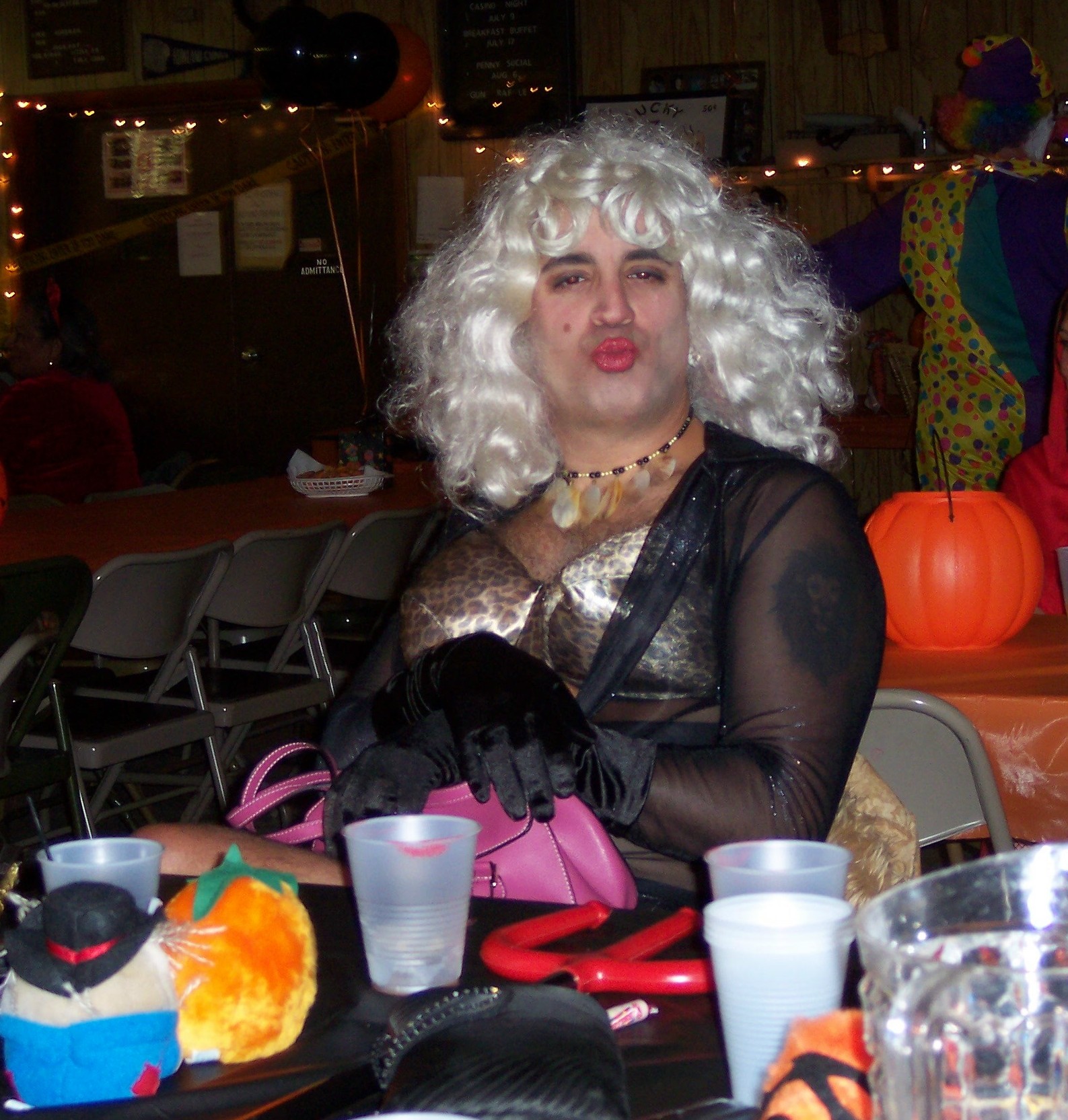 Sometimes, even at a young age, our costumes can reflect our destiny- take for instance, Front Desk Supervisor Amy. "I've been a lifelong Penn Stater, as you can see," says Amy. "This was my all-time favorite- WE ARE!"
Front Desk manager Abbey and Dining Room manager Corey kicked it old school Disney with a "supercalifragilisticexpialidlocious" duo costume of Marry Poppins and Burt. "I'm still so obsessed with it," says Abbey. "Best costumes we ever had!"
Grounds Superviser Andrew loves Halloween. "He decided to dress as a woman for a party once year," says his loving wife Jackie. "He went all out from head to toe- mini skirt, leopard print blouse, blonde wig and even platform shoes. He must have looked good- an older gentleman decided to try his luck and get his number."
Rory, our marketing director, had a college obsession with the Quentin Tarantino classic "Kill Bill." "For the Halloween extravaganza that happens at Syracuse University I had to do something very cool. I went to the thrift store and saw an extra-large, one-piece, zip up, yellow jumpsuit… I had to do it. So, I bought some black ribbon to sew up the sides of the suit and a blonde wig and I was, Beatrix Kiddo in all her ninja glory… The Bride. Nothing funnier than a 6'1" 230lb man trying to look like Uma Thurman."
Eric from Social thought outside the box by staying in the family. "Guys like to dress up as their heroes for Halloween- mine happens to be my dad, Social Director Joey," says Eric. "I already kind of look like him, so I just through some powder in my hair for the 'salt & pepper look.' My friends loved it!"
Cara, our wedding coordinator, ventured into the world of corporate mascots for her best costume. "When I was in 5th grade I took pink feety pajamas and turned it into the Energizer Bunny. I wore bunny ears, sewed a white pom pom on my bum for a tail, then wore my dads drum on my front and we used two pringle cans to make a battery pack on my back. When we were trick or treating, a guy dressed as a zombie jumped out of a coffin in front of a house and I threw my drum sticks and candy and went running, and he looked at the crowd and said "she keeps going and going…"
Mandi (who works with our kids program) once went as a "human pinata." "I glued thousands of strips of tissue paper all over a jumpsuit then stuffed my pant legs with candy that would scatter about when I walked. No beating necessary."
Halloween just isn't enough for us, though. We're all about suiting up in costumes year round for our Theme Night and Parades. Check out some of these favorites from the past few years:
Perhaps the uncontested King of the Woodloch world of costumes is non other than our Commander In Cheif, John (or as we call him, JK). Year in and year out, he always seems to pick costumes that demonstrates his leadership. In the past, he's been General Patton, George Washington, King Arthur and even Jean Luc Piccard.

He's even built up enough of a fan base to have others dress up as him for Halloween.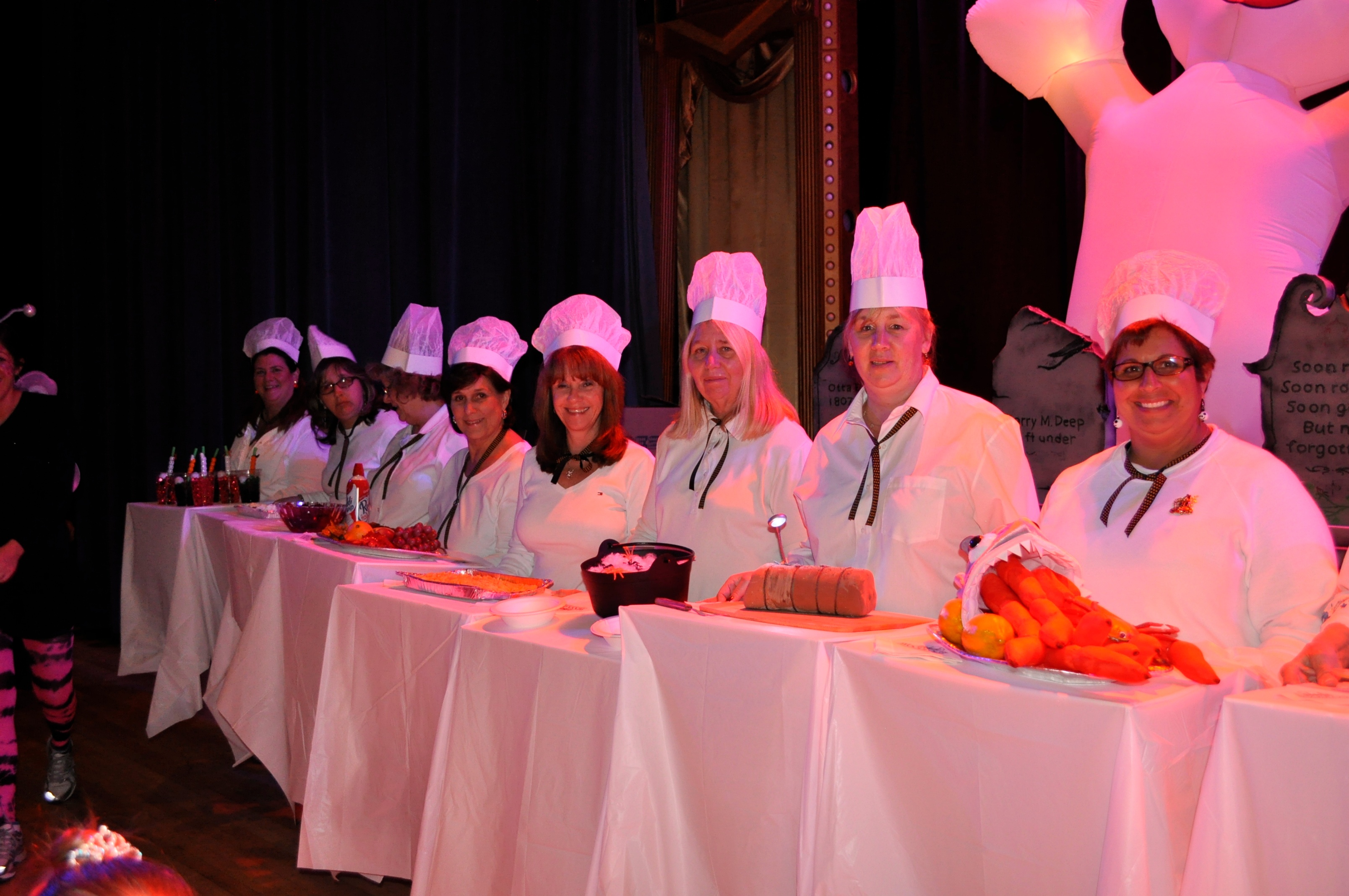 Of course, we've seen many great costumes from our guests over the years at our Halloween costumer parties and parades. Perhaps the coolest ones were well coordinated "group costumes." We've seen Card Sharks, Avengers, even a team of Woodloch chefs, each with a signature dish!
And of course, that's just scratching the surface of all of the crazy (with all due respect) that we've seen pass through our doors during Halloween over the years. We're hoping you feel inspired…. and we'd LOVE to have you share your costume memories with us! Feel free to COMMENT in the section below!