~shared by J. Ranner
A person who feels appreciated will ALWAYS do more than what is expected.
Many moons ago, the enlightened troubadours simply known as "The New Radicals" taught me one of life's most important lessons- you only get what you give. I have to say that in almost every facet of my life thus far, this has been true. What you put into something will most definitely affect what you get out of it.
Imagine yourself (or perhaps you're already there) working day in and day out at a job in which you sense little to no appreciation is being sent your way for a job well-done. How long are you seriously going to consider staying there? I think most rational people would answer that with, "not long." For the most part, happy employees lead to happy customers. Happy customers lead to happy owners.
Perhaps that is why the Kiesendahl family is beaming. Every year, Woodloch takes the time to recognize the dedicated service of many of our employees during their Spring Appreciation Meeting. "Once temperatures warm up and spirits are starting to lift, we feel it's the perfect time to show gratitude for all that our employees do," says John Kiesendahl, owner. "We take tremendous pride in our staff and feel it's necessary to acknowledge what they bring to our business."
Over 160 of Woodloch's employees were recognized for at least 10 years of dedicated service- including 25 of them with at least 30 years of employment. Employees are given both gift certificates and golden nametags in recognition of their service. "All resorts have amenities, accommodations and food," says Kiesendahl. "The people associated with Woodloch have been, and always will be, Woodloch's most valuable asset." In an industry where employee turnovers are typically pretty high, Woodloch has maintained a significantly higher retention rate.
Additionally, Woodloch took the time to recognize two staff members for their yearly "Aunt Mary and Aunt Marge Award." This honor is bestowed upon two employees (one front of house, one behind the scenes) that routinely go above and beyond the call of duty to give Woodloch guests an outstanding vacation experience. This year's recipients were Wesley Halliday from the bar and Basilio Perez-Carrasco from grounds maintenance. "Both of these gentlemen showcase our tradition of warm hospitality day in and day out. I couldn't be more proud to call them a part of our team," says John. Both Wes and Basilio were rewarded with a stay at the resort so they, too, can enjoy "The Woodloch Experience." Afterwards, all employees were invited out to The Clubhouse at Woodloch Springs for dinner, drinks and dancing on a beautiful spring evening.
If all of this sounds appealing to you, then you are in luck. Our team is looking to expand and will be hosting an on-site Job Fair May 26th, 2015 from 2 to 5 PM at The Inn at Woodloch. Look your best, bring your resume and meet face to face with departments that are looking to hire. The resort, our brand new Market, The Boat House Restaurant and our sister property spa- The Lodge at Woodloch, will be conducting on site interviews, so be your best self! We look forward to seeing you!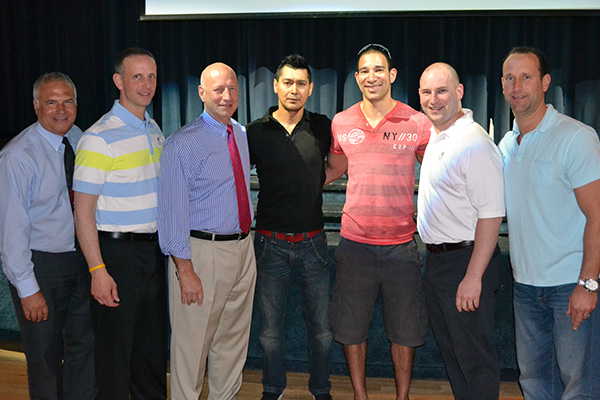 Basilio & Wes – Recipients of 2015 "Aunt Mary & Marge" Award