~ shared by J. Ranner
"No one has ever become poor by giving."
– Anne Frank
Whew!
I sincerely cannot believe how fast another holiday season has come and gone. It seems like only yesterday I was parading around in my awesome Indiana Jones Halloween costume and thinking to myself, "ehh… we've got time." A metaphorical boulder started chasing us all down and suddenly we've arrived in a brand new year with all of the holidays a spirited blur.
I've been fortunate enough to always have a good holiday. I have a large family so there's never a true sense of loneliness. There was no shortage of delicious food and fun times with the people I truly care most about in this world.
Yet as I age, I still find the most rewarding part of the holidays to be bringing joy to those who truly need it. The holidays aren't always the best time of year for some people; as a matter of fact, they can actually be the most difficult. Which is why when someone, and it can be ANYONE, goes out of their way just the teeniest bit to make someone's holiday a little bit better, it can change the world in ways that none of us have the ability to comprehend.
For the second year in a row, Woodloch Resort celebrated "12 Days of Giving." Essentially, we had 12 different surprises for friends… and even complete strangers. "We've been very fortunate to endure these past 7 years in business," says John Kiesendahl, owner. "Woodloch was built on a the cornerstones of family, friendship, heart and warmth. What better way to show the appreciation for what we have than to pay it forward?"
Through a bustling holiday season swirling with snow squalls, staff meetings and very busy weekends, dedicated volunteers headed out into the cold and shared Woodloch warmth with the world!
Here's a recap!
Day 1: "The Angel Tree"– Woodloch employees selected names off of our "Angel Tree" and brought holiday joy to local youth that otherwise wouldn't have had it. Dozens of kids were greeted by those gifts Christmas morning.
Day 2: "Blanket the World"- teaming up with several local businesses in the Honesdale and Hawley area, we collected over 100 toasty warm blankets to be shipped all over the world to those in need.
Day 3: "Operation Christmas Child"– care packages stuffed with everyday personal items- including school supplies, personal hygiene items and accessories – were collected and sent oversees to underprivileged children. It's a program that certainly expands year after year!
Day 4: "Adopt A Family"– our departments banded up and gathered all the elements for a nice holiday and surprised a local family in need.
Day 5: "S.O.S – Save Our Shelter"– The Dessin Animal Shelter of Honesdale, PA has been fighting to keep its doors open due to financial woes. In addition to hosting a benefit weekend for the shelter in October, Woodloch has been working closely with The Boy Scouts of America and The Girl Scouts of America to continually gather supplies for the animals in need- everything from food to treats to toys to cleaning items are ALWAYS in demand!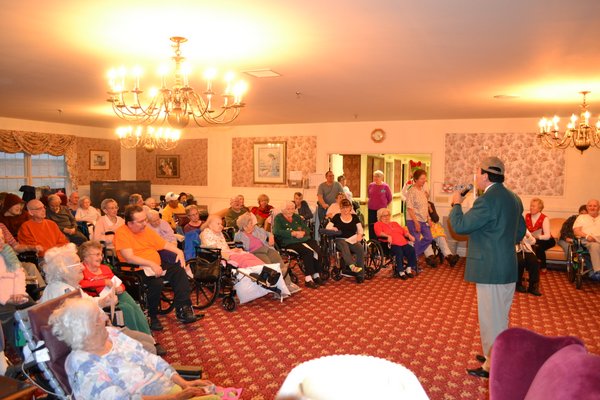 Day 6: "Show on the Road" – Eric and Sammy of the Social Department (and stars of the Woodloch stage!) loaded up their sleigh with sound equipment and surprised residents of the Ellen Memorial Health Care Center with a holiday musical show! Even St. Nick himself showed up with world-famous Woodloch chocolate chip cookies for everyone!
Day 7: "Random Tabbing" – There's no feeling in the world quite like having a delicious meal… then finding out that someone has picked up the check for you! For a week, Woodloch's Boat House Restaurant randomly took care of the tabs for unsuspecting diners.
Day 8: "Thanking An Employee" – We're a family here… and family takes care of their own! Several employees were discretely given a few extra dollars for the holiday season.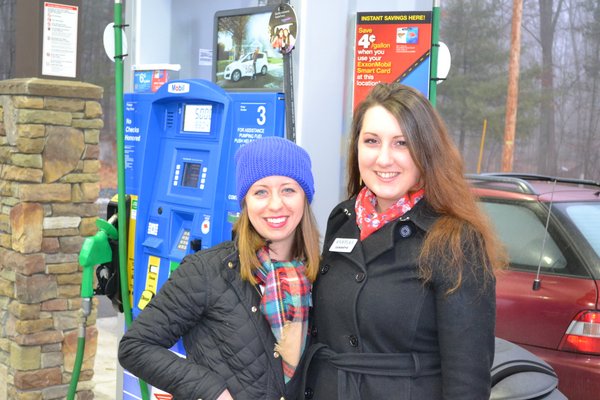 Day 9: "Filling The Tanks" – We've all fueled up our vehicles before in the bitter cold- I think the general consensus is that there is little to no joy in the experience! However, we sent two of our lovely ladies out at The Market at Woodloch to not only pump gas for unsuspecting customers… but to pay for it as well. Plenty of smiles resulted for so many reasons!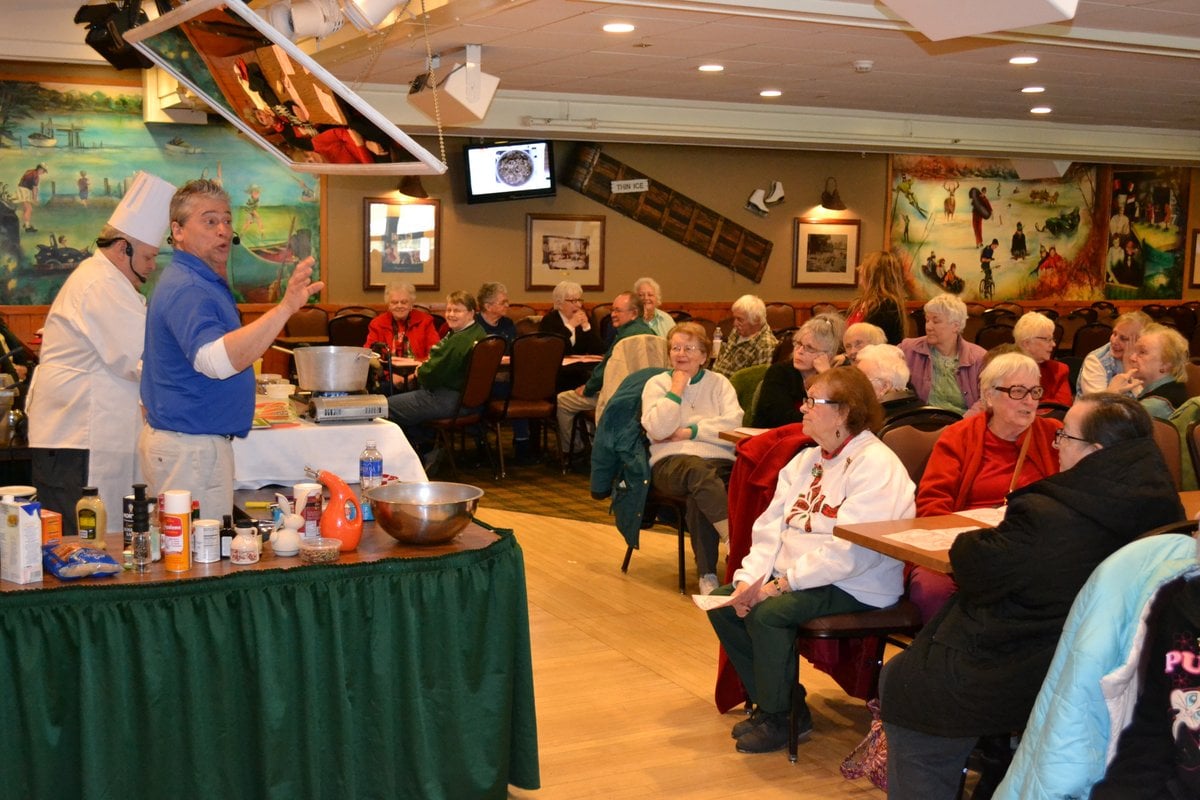 Day 11: "Holiday Cooking Class" – Joey Ranner (our activities director) and Dave Nordenhold (dessert chef and creator of delicousness) performed their famous "Cooking Class" for almost 50 local seniors in Wayne County's outreach program. Special thanks to our BFF's at Avery Transportation for helping them to arrive in style!
Day 10: "Salvation Coffee Drop" – Speaking of things that can certainly add to the stress of the holidays… having to shop in the cold! That's why we loaded up our famous Woodloch Bakery truck with hot coffee and our famous baked goods to shoppers at our local Salvation Army. Fatigued shoppers were given a spot of java to help them endure the elements!
Day 12: "#PSPSTRONG" – Needless to say, it was a long and tough year for those who work so hard to keep the great state of Pennsylvania safe. We loaded up our trucks and stopped at State Police barracks in Blooming Grove and Honesdale with coffee and plenty of crumb cake. Just a small (but infinitely tasty!) token of our appreciation for all that they do!
Needless to say, it was a very rewarding holiday for all of us here at Woodloch. But I think the key lesson to be learned here is to keep the giving spirit with you, all year long. Even the smallest things that we do can influence change in the BIGGEST of ways!