~shared by J. Ranner
I think George S Patton, one of our nation's greatest military leaders, said it best: "Americans love a winner… Americans play to win all the time." Which is certainly true if you really think about it. Why do we go nuts when our team wins the Super Bowl? Why does it feel so good to finally land that big promotion you've been working towards? Or mustering the courage to ask that cute girl out… and getting her to say yes? Yup, tackling challenges and emerging out the other side victorious feels really, REALLY good.
Needless to say, "winning" takes on all sorts of forms. It's not necessarily always about getting that trophy or leaving everyone else behind in the dust. Sometimes, "winning" in life simply means putting your best foot forward, becoming (or at least trying to become) the best person you can be, and leaving the world off as a better place than you did when you got here. Based on my life experiences, the people I've met and the way things have unfolded, that's what "winning" has come to mean to me.
Many years ago, a man named Chuck Russell visited our resort every year on his family vacation from long distances- much like many of you fine folks continue to do to this day. And, in short, Chuck was a special kind of man. "He was EVERYWHERE," says Joey Ranner, Activities Director. "Chuck quickly developed a reputation for being 'that guy'- you know, the one that everybody seemed to flock to because he was the life of the party. He whistled, he cheered and had a great time no matter what." Though he loved to win (again, who DOESN'T?), regardless of the outcome Chuck was quick to shake hands in the true spirit of Woodloch sportsmanship. Chuck made a lot of new friends and created countless memories with every vacation he took.
Sadly, Chuck lost a very rough battle with cancer in 1995. The entire Woodloch Family was devestated by the loss of Chuck. "He was just a great guy," says Joey Ranner. "We realized fairly quickly that we wanted to find a way to not only remember Chuck but also the wonderful spirit of the Woodloch games that he embodied." Thus, we established "The Chuck Russell Award." During each of our 9 weeks of summer, we would select one individual who seemed to carry the torch that Chuck ignited and recognize them at our weekly "Awards Ceremony" in the Nightclub. "It was a bittersweet kind of thing," says Ranner. "We all truly missed Chuck, but it was rather warming to see so many of our guests keep that fire alive."
20 years have passed since our first Chuck Russell Award winners were recognized… so we thought we'd do what we at Woodloch do best: reunite everyone for some FUN.
From April 24th-26th, Woodloch invited all of our past Chuck Russell winners up for a little reunion. After a weekend filled with all of our favorite events including "Name That Tune," Horse Races and Family Olympics, our crowds migrated to the Nightclub for a celebration. "Not only was Woodloch holding their 57th Anniversary, but we were celebrating 20 years of Chuck Russell recipients," says John Kiesendahl, owner. "We're blessed and have a lot to celebrate."
Following a video tribute to Chuck and 180 past Chuck Russell winners, everyone raised their champagne glasses in memory of Chuck, in celebration of friends that we have, and all the memories to come. In total, 65 past winners joined us on stage for a group shot. We also inducted an "honorary" member into the Chuck Russell class. Mr. Bill Wolf has visited Woodloch over 204 times (more than ANY other guest!) and always follows the action. "Bill was a police officer working the beat and would visit my dad's luncheonette before my family bought Woodloch," says John. "Right from the beginning, Bill was there visiting us."
Honored by this award, Bill simply replied, "I wish I had more money at the time. I could have been a partner!"
Bill & Mary Wolf
The weekend couldn't have been more picture perfect for both guests and staff alike. "So many smiles and laughs," says Joey Ranner. "I know that right now, Chuck sees all that this has become and is smiling right back at us."
"We are so blessed with loyal guests that come back year after year, and create a culture that you just can't beat," says John. "They make a spirit of Woodloch Pines where people come for the first time, and they make it cotagious. Our guests and their wonderful spirits truly make Woodloch what it is."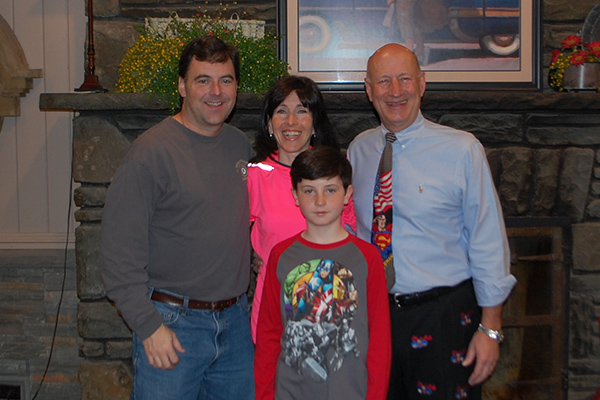 Eddie Russell & Family