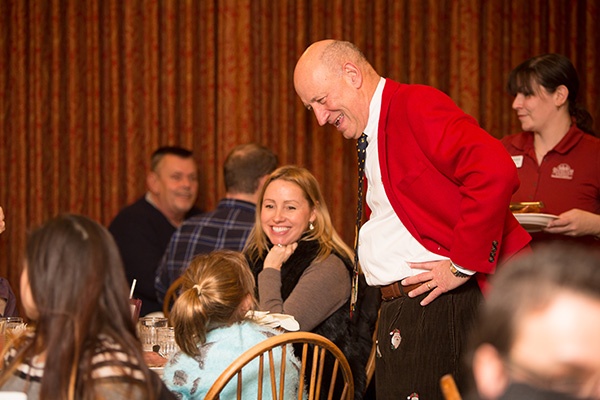 ~ shared by Joseph J. Ranner
A wise soul once said… "life is just too short to wear boring clothes."
If anyone has ever visited our resort (and for those of you who will in the future), you know that you are bound to meet all sorts of characters- it's part of what makes Woodloch such a special place to visit and work. Everyone's quirks and quips have been instrumental in shaping our identity since we opened our doors way back in 1958.
Along the way, you'll stumble into Mr. John Kiesendahl- our boss. And aside from his charming demeanor and stately good looks, you're bound to notice something else: his pants. They're always a little bit… funny.
But that's exactly what JK (as we call him) is going for.
It all started in the magical year of 1981. Ronald Reagan had just taken office, Indiana Jones was raiding lost arks, and JK had just bought Woodloch from his parents- a big undertaking for a thirtysomething. Right before our famous "horse races," JK unfurled a size 32 pair of corduroys adorned with holly leaves, just in time for Christmas. And so the tradition began.
Doing something lighthearted not only reminded employees that Woodloch is a fun place to work, but also helped JK smile during the early days of ownership.
"It was great to see guests start to respond to pants as I would wear them," says John. As years went by, guests recognized him by his trademark slacks. Today, 35 years later, it's odd to see John NOT donning the funny pants. As a matter of fact, we've had guests visit and pay loving homage to JK and his pants over years… see?
As the years went by, JK collected pants of all shades with all sorts of characters- superheros, children's book characters, Santa Claus, and everything in between. He even makes a concentrated effort to match a tie with said pants. "All in all, I have probably 60 pairs of pants," says John- 24 in rotation, and the rest in the archives. "I'm attached to them all… but my current favorites are my brand new Star Wars pants!"
John is going to be celebrating a big "milestone" birthday this year- he will be 70 years young. As we celebrate his birthday as well as 58 years of Woodloch, JK has decided to donate a few of his precious duds to a great cause.
Yes folks, it's true: you will have a chance to own a pair of JK's pants this April as we present the first ever charity "Funny Pants" Auction, with all proceeds benefitting BK Hope Cures, his son Bobby's fundraising effort for cancer research. These one-of-a-kind garments are custom made and not available ANYWHERE. So may the odds be ever in your favor.
The auction will take place during our "Milestone Celebration Weekend," along with toasts, tributes, stories, hors d'oeuvres and more surprises along the way. It is going to be a truly memorable event and we'd love to have you join us!