History of Woodloch
The history of Woodloch Pines, an all-inclusive family resort in the Pocono Mountains
Let's take it back to 1944. That was the year that Mary Mould married Harry Kiesendahl. You may not know them yet … but you should. At that time, they were a young high school couple on Long Island, but you'll come to recognize them as the original founders of Woodloch.
Growing up, Mary and her family vacationed off the serene shores of Lake Teedyuskung, located in the Lake Region of Pennyslvania's Pocono Mountains. Mary loved the area so much that she vowed to return often.
After Harry Kiesendahl, the energetic and enthusiastic football hero of Baldwin High School in Long Island, NY, married Mary Mould, the two made it through Harry's tour of duty in WWII and settled down to start a family. Mary often thought about the gorgeous Lake Teedyuskung but her thoughts were quickly consumed by the task of raising her three children, John, Nancy and Steve.
One fine day, fate intervened. Harry saw a for sale listing in the New York Times for a small resort on a private lake in Northeastern Pennsylvania. The small, unidentified lake in the ad turned out to be Lake Teedyuskung. We know, unbelieveable – but trust us, 100% true.
Harry and Mary jumped on the opportunity to purchase this property from the current owners, the Svenningsens, and events steamrolled from there. In April 1958, Mary, her children and her parents moved to the Poconos resort, which they would now call home. During the week, Harry kept his Long Island business going and stayed with his family at what is now Woodloch Pines on the weekends.
The original 12-acre Poconos resort included a main lodge, annex and two cottages, all of which accommodated a whopping 40 guests. Woodloch's popularity grew and grew, and by 1961, the Kiesendahl's had doubled the size of the lakefront resort. By 1983, the resort had grown into 150 acres with almost a mile of shoreline and 135 rooms … big time stuff!
Fast forward to today, the all-inclusive resort spans more than 1000 acres and can accommodate over 900 guests, a far cry from the original 40 person max. And don't forget that just down the road is Woodloch Springs, home to a championship golf course and sprawling vacation rentals, as well as The Lodge at Woodloch, one of the world's best destination spas, a.k.a Zenned out bliss.
So what's the secret to our success? Since our earliest beginnings, we have remained committed to a number of traditions, but by far the most important one is the way we treat our guests … "it's as if they are company in our own home" (our original mission). This is what sets Woodloch apart from other places.
That said, we can't thank our guests enough for their continued support. And if you haven't been to Woodloch yet, we highly recommend that you make the trip soon. We can't wait to share our tradition of excellence and warm hospitality with you.
The History of Lake Teedyuskung
As you've learned by now, Woodloch Resort is lucky enough to have a pretty incredible history. Way back in the early 17th century, the Lenni Lenape Indians were the original settlers of Lake Teedyuskung in the beautiful Pocono Mountains. Then an entire century passed, and the Susquehanna Delaware Indians became the dominant tribe in the area. By now, you've also heard the name Teedyuskung mentioned plenty of times so you're probably wondering just where that name originally came from. Chief Teedyuskung (1700-1763) was the strong-willed spokesman of the Susquehanna Delaware Indians. He fought the white settlers for the land that he believed belonged to his tribe. Unfortunately, in 1762, Teedyuskung's desperate battle for the land was lost and his requests were denied.
In 1763, Teedyuskung was mysteriously burned to death in his cabin along with many other members of his tribe. Shortly after this incident CAPTAIN BULL, son of Teedyuskung, and the rest of the Delaware War Party proceeded to kill all of the white people in the Wyoming Valley. In 1768, the disputed land was finally sold to the Pennsylvania Government.
Fast forward to the late 1800s, James Henry and Adelaine Thompson, the grandparents of Helen Lockwood and James A. Thompson (Helen's brother), purchased a large piece of land along the east shore of the lake from Martha J. Quick. The west shoreline was sold off as parcels during the Depression.
t just so happens that Lake Teedyuskung was home to a famous resident. That would be Daniel Carter Beard, one of the founders of the Boy Scouts of America (May 1905). An avid woodsman, illustrator and naturalist, Daniel Carter Beard was a pioneering spirit of the Boy Scouts of America. In 1882, he illustrated Mark Twain's 'A Connecticut Yankee in King Arthur's Court.' Already 60 years old when the BSA was formed, Dan Beard became a founder when he merged his 'The Sons of Daniel Boone' organization with the naturalist Ernest Seton's 'Woodcraft Indians' in 1910.
Dan owned 3 parcels on the lake. He acquired one piece from the George Rowland Estate in 1878. The second piece was owned by his brother, Harry Beard. The third piece of property was purchased by Mrs. Kellog in 1888 from James Henry Thompson and sold to Dan Beard for his school in 1926. It was remodeled into a tavern during the 1950s.
The Howard Hughes Connection
The lake has other noteworthy celebrity connections. Howard Hughes, best known for being a big budget filmmaker in the early to mid-1900s, was an admirer of Dan Beard. He visited the lake several times in the 1930's. In this letter, Howard Hughes writes: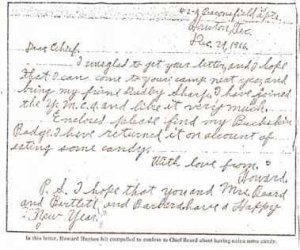 "I was glad to get your letter, and I hope that I can come to your camp next year and bring my friend Dudley Sharpes. I have joined the YMCA and like it very much. Enclosed please find my Buckskin Badge. I have returned it on account of eating some candy. With love from Howard. P.S. I hope that you and Mrs. Beard and Bartlett and Barbara have a Happy New Year".
The Inn at Woodloch sits on the area that was once Camp Elektor, founded by Maude B. Clarke. A small summer camp on Lake Teedyuskung that remained in existence until 1970, Camp Elektor's main purpose was to teach small children skills and service. Next to Camp Elektor, where Woodloch's lake houses are now situated, was a small weight loss camp for young girls. The camp was not a success as campers could easily sneak over to Woodloch and purchase candy and ice cream. The North Lodge was formerly Camp Teedyuskung, a private girl's camp, which specialized in horseback riding and horse care. Woodloch purchased the property in the early 1960's to expand the existing boarding house, which would eventually become Woodloch Pines Resort.
What's In a Name?
In the 1930s and even earlier, Lake Teedyuskung was called 'Big Tink Pond.' Lake Teedyuskung means 'He Who Makes the Earth Tremble.' 'Little Tink' was the pond at the end of the outlet, also called Simpson's Pond.
Want to find out more?
Pick up a copy of 'Lackawaxen Township Bicentennial Book', copyright 1998. Stuart Communications, Inc., Narrowsburg, New York. It serves as an excellent source of information about Lackawaxen Township. Look for 'Dan Beard's Animal Book and Camp-Fire Stories,' by M.A. Donahue, 1910.