Indoor Golf Performance Studio
9-18 Hole Course Simulator & Virtual Driving Range
Our Indoor Simulator will allow golfers the opportunity to improve their games during the off season or even during inclement weather throughout the year. Play 9 or 18 holes and share some beverages, for birdies and laughs all year round. Tee time ruined by bad weather? No problem. Reserve your group and get your round in; minus the raindrops!
Our performance studio is open Wednesday – Sunday. 9am – 5pm
RESERVATIONS ARE REQUIRED
Call 570.685.8102
Rates are $45 per hour*
Just $35 an hour for Woodloch Golf Members*
Our Virtual Driving Range is always available at $25 per½ hour or the regular hourly rate.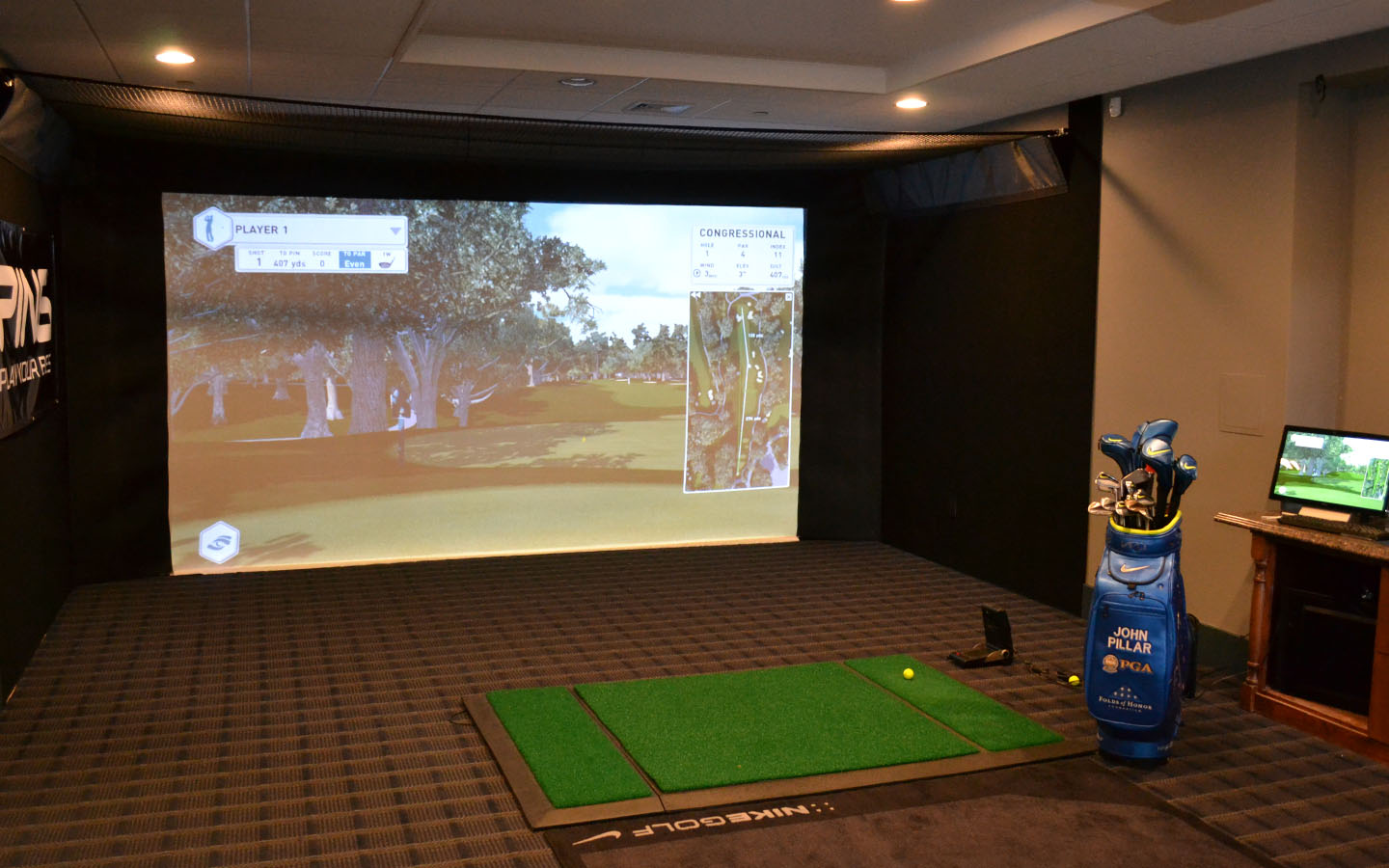 Performance-Studio_0000_DSC_0301
Performance-Studio_0001_DSC_0303
Performance-Studio_0002_DSC_0316-edit
Program Details

| Courses Available | |
| --- | --- |
| Oakmont | Host of 2016 US Open |
| Hazeltine National | Host of 2016 Ryder Cup |
| Doral Blue Monster | Host World Golf Championship |
| Carnoustie | Host of 2007 British Open Championship |
| Royal Troon | Host of 2016 British Open |
| Teton Pines | Foresight's own Virtual Course |
| Congressional | Host of 1997, 2004 US Open |
| Abu Dahbi | Host of the HSBC Golf Championship |
| Olympic | Host of 2012 US Open |
| Quail Hollow | Host of PGA Tour Wells Fargo Championship |
| Coeur D'alene | Home of the famous "Floating Green" |
| Applebrook | Rated the 14th Best Course in PA by Golf Digest |
| Aronimink Golf Club | Named 2020-2021 Platinum Club of the World & 2019-2020 Platinum Club of America |
| Innisbrook Island | Ranked #84 in the Top 100 Courses in America |
| Laurel Valley | Rated the 5th Best Course in PA by Golf Digest |
| Merion | Host of 5 U.S. Open Championships |
| Woodloch Springs | Our Home Course! |
Rules & Policy

Rules of the Room:

Simulator room has a maximum of 4 players at any time.
All players will provide their own clubs. Rentals are available. $25 per set
SAFETY at all Times. Only player swinging should be the one in the hitting zone. All others should remain behind the line or sitting.
Simulator equipment is to be set by the professional staff and should not be changed.
All rates are HOURLY and once time has expired, please finish up in a timely manner for the next group.
AGE REQUIREMENTS for use of simulator. Ages 12-17 require an adult. Not recommended for children under age 12.

Cancellation Policy:

You must call to cancel your reservation at least 24 hours in advance. Failure to do so will result in charge to credit card or room and may restrict your ability to make future reservations.

*Credit Card information will be required to hold reservations.
*Woodloch is not responsible for damage to personal golf clubs, equipment or injury to person and all players are playing at their own risk.
Our Studio is rented by the hour, not by the number of golfers. We don't charge on a per person basis and we don't have an additional fee for multiple players in a group. Maximum number of players is 4. Credit Card information will be required to hold reservations.
Reservations are Required
Call 570.685.8102