~ Shared by Joseph J. Ranner
You've all seen the pictures. A friend of yours who loves the Beatles travels to London and low and behold, a picture is snapped of him crossing Abbey Road. Your cousin Sally heads to LA on a business trip and sure enough is captured on film on next to Charlie Chaplin's star on Hollywoods "Walk of Fame." And we all know someone who has traveled to Italy and single handedly supported the Leaning Tower of Pisa.
No matter where you travel to, it's nice to know that there are trademark sights and landmarks that provide the perfect photo opportunities to document your escape. And while Paul McCartney has never stayed with us, and all of our buildings are structurally sound, I like to think that in the magical universe of "Woodloch Land," we have our own little features that define us and have provided families with awesome locations for that ever important group photo for the past 55 years.
So, I've taken the liberty of compiling a list of "10 Pretty Awesome Photo Ops at Woodloch Pines Resort."
1. Fisherman- He's one of the first "personalities" you'll run into upon your arrival to Woodloch! Situated right outside our main registration desk, the classic fisherman has seen many generations of families grow up here at Woodloch. Year after year, he stays in the same spot; the fish must still be biting.
2. A photo with ___________ by the Front Desk– You never know who you might run into as you check in for your vacation experience at Woodloch. It might be an old friend, a favorite staff member, JK, or depending on the season, Frankenstein, the Easter Bunny, or Jolly Old Saint Nick! Be ready for anything…
3. Main Lobby Fireplace – Our resort has grown a bit since opening its doors in 1958 (understatement), but the main lobby fireplace has been a staple from the get go. Crackling fires burn throughout the winter, but our fireplace is the perfect place for your family to assemble for a portrait that says "we're classy . . . but here to party."
4. Fishing Dock – To me, when I get a spare moment to soak it in, Lake Teedyuskung is breathtakingly beautiful, and any picture you take is bound to be an instant classic. However, migrate over to our small fishing dock next to the Tea House dock for a full beautiful view of the lake, passing boats, and of course all those "skilled" water skiiers.
5. Waterslide– And while we're down on the lake, let's talk "action" shots. While there's nothing more adorable than watching your kids construct sand castles, it's hard to compete with the joyous smiles our guests share with us as they plummet down our waterslide!
6. The Inn Waterfront– Have you been plotting- I mean "planning"- your fairytale wedding since you were young? If so, I'd say there's an 83% chance you dreamed that it would take place at the Inn waterfront, even if you've never seen
it before in your life. The tranquil water and astounding views will not only stir emotions in the manliest of men but also provide a pristine canvas for all of those lovely wedding photographs!
7. Zipline– There's nothing like capturing your loved ones with an expression of pure enjoyment – or fear – in their eyes. Both are equally possible thanks to Woodloch's 600-foot Eagle Eye Zipline. Snap a shot as they zoom by at over 35 mph through the trees or as they free fall from our Tarzan Swing! Memories…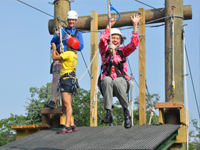 8. Climbing Wall– Yodel-ay-hee-hoo! Do you have what it takes to scale 30 feet vertically to the summit of Woodloch's climbing wall? If so, why not immortalize the moment with a proper photograph (taken from the ground, of course).
9. Theme Night– Staying with us on a Wednesday or Saturday night? You will regret missing the spectacle of Theme Night!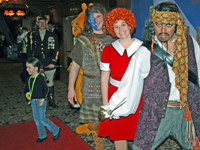 As you arrive for dinner, snap a quick shot with our characters in the traditional greeting line, then catch a new set of characters parade through on parade!
10. The Deer That Never Moves– Looking to spot some wildlife, but keep coming up short? Fear not, we've found a solution to this issue! Situated underneath a tree on our main lawn is a deer that never moves. A nice silver medal to actually having to track down wildlife to film, this ceramic creature will ALWAYS hold a special place in my heart, and I have a feeling others will agree with me!
AND THE MOST IMPORTANT PHOTO OPS OF ALL…
…. are the ones that you create with the people you love most in the world! It doesn't have to be at a certain place or a certain time. Remember, a photograph captures a moment and immortalizes all of the feelings so that you can take them with you year-round! Plan as you might, the best pictures will set themselves up when you least expect it! And that's a BEAUTIFUL thing.
**Immortalize and share your best photos with us- you can follow and tag us on Instagram (@Woodloch) or hit us up on Twitter (also @Woodloch)… who knows, we might even repost our favorites to share with ALL of our friends!
WE'D LOVE TO KNOW- where are YOUR favorite photo spots? Comment below!
;)