Woodloch Family Biographies
Woodloch Pines Resort: A Family Owned and Operated Resort
For over 65 years, the Kiesendahl family has owned and operated Woodloch Pines Resort, working very hard to grow Woodloch into what it is today. The family of properties operated by Woodloch includes a year-round family resort (Woodloch Pines), an award winning championship golf course (Woodloch Springs), and a luxury destination spa (The Lodge at Woodloch). The Kiesendahl's commitment to excellence shows in the hands-on running of daily operations as they embody what it means to treat guests as if they were company in their own homes.
Original founders, Harry and Mary Kiesendahl, passed along their passion and traditions to their children and grandchildren, providing memorable experiences to thousands of families year after year. Woodloch is currently in its third generation of family ownership and management.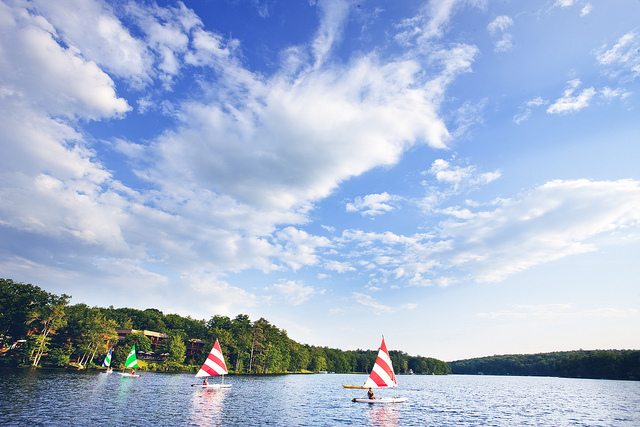 Third Generation Family Members:
Bradley Kiesendahl, John's third son, has served as President and CEO of Woodloch Resort since 2019. After graduating from Cornell University's Hotel School, Bradley spent eight years working for the Four Seasons Hotel Corporation in Washington D.C., Los Angeles, Philadelphia, and Prague. His global experience has brought a structured approach to the award-winning resort as it enters its third-generation of family ownership and management.
Recognizing the importance of Woodloch's original mission "to treat all guests as if they were company in their own homes," Brad's vision is not only to uphold this standard of excellence in hospitality but to exceed it. As the resort moves into its sixth decade of success, Bradley looks forward to staying current with technological trends while maintaining the heartfelt connections that are trademark to the Woodloch experience. Guests come to Woodloch specifically to reconnect with their families, whether those are families of blood, bond or friendship.
Brad is very active in the local community, serving as a youth sports coach and on the Board of Directors for Wayne Memorial Hospital, the Lackawaxen EMS, and the Hawley First Presbyterian Church. Bradley's wife, Jennifer, has been a cast member in Woodloch's popular Broadway-style theme show since 2005. They have two sons, Edward and Anthony, who are students at Wallenpaupack Area and active members of the football, basketball and baseball teams there. Bradley's hobbies include spending time outdoors with his family and being an avid Philadelphia sports fan.
Brooke James, the eldest daughter, serves as Vice President of Sales, Marketing & Hospitality at Woodloch where she oversees the front desk, reservations, and sales and marketing departments as well as the Woodloch Springs vacation rental home program. She returned to the resort in 2010 after a successful pharmaceutical sales career in the Philadelphia area. In her role overseeing many guest-facing departments, she recognizes the importance of putting people first, always making sure that staff and guests alike feel welcomed and cared for. Her goal for Woodloch is to exceed its current level of hospitality and keep reinvesting in the business for years to come, ensuring that Woodloch continues to provide a home away from home for guests and a positive work environment for staff.
Brooke and her husband, Mark, have two girls, Annie and Nora, who are active in sports in the Wallenpaupack School District. She and her family enjoy going to Disney and taking getaways throughout the year to reconnect. Brooke also serves on the Wayne Memorial Hospital Foundation Board.
Bob Kiesendahl, John's first-born son, is the Food & Beverage Director of Woodloch Pines and The Lodge at Woodloch. He also oversees The Woodloch Market and is involved with the human resources department. After graduating from the Cornell University Hotel School and working for the Four Seasons, he returned to the family business. Bob is a cancer survivor and founder of BK Hope Cures whose mission focuses on cancer research and patient care. The nonprofit has raised over $1.7 million to date. His vision for Woodloch aligns with the values of his charitable organization — working to make the world a better place by providing experiences that bring people together while nurturing a culture of caring.Bob enjoys being active outdoors and spending time with friends and family. He has three sons: Zachary, a graduate of the University of Pittsburgh who now works for the Pittsburgh Penguins; Luke, a student enrolled in the physical therapy program at the University of Pittsburgh; and Drew, a Wallenpaupack High School student and member of the football and basketball teams.
Patrick Kiesendahl, John's youngest son, serves as Woodloch's Operations Director and oversees the social, safety, bar, and water departments at the resort. He holds a business management degree from St. Joseph's University and started his career at Woodloch when he was seven years old, laying bacon and picking up trash, then working his way through almost every department.

Patrick's vision for the social department is to continue creating new and exciting entertainment for guests for years to come so that they are always able to say, "That was the best vacation I've ever had." He recognizes the joyful memories that Woodloch provides for so many and for that he is grateful.

Patrick met his wife, Jenette, when she was a guest at Woodloch. They have two energetic, fun-loving boys, Thomas and Rome. Patrick enjoys staying active with his family and is a die-hard Eagles fan.

Matt Kiesendahl, John's second oldest son, is the Director of Services at Woodloch Springs where he oversees the golf course, pro shop, sports complex, and food and beverage operations. After graduating from Muhlenberg College with a degree in business, Matt began his career at Woodloch, working his way through various departments before moving into his current role in 1999. His vision for the resort is to continue to grow its brand of excellence within the hospitality industry as well as evolve its golf and food and beverage operations to solidify success for many years to come.

Outside of work, Matt enjoys traveling, being a Philadelphia sports fan, and spending time with friends and family, including his two children, Devon, who attends Penn State University, and her younger brother Sam, enrolled at Wallenpaupack School District.

Second Generation Family Members:
John Kiesendahl is the eldest son of Harry and Mary and currently serves as Managing Partner at The Lodge at Woodloch after serving as President and C.E.O. of Woodloch Resort for over 38 years. He attended Cornell University's Hotel School and joined the Navy before deciding to make Woodloch his career. He is best known for greeting guests personally during meals and wearing the "funny" pants (he has custom-tailored pants featuring many different children's characters). His wife, Patti, is also very active within Woodloch and oversees the Woodloch Gift Shops and décor throughout the resort. Together, they have seven children — Bob, Matt, Brad, Brooke, Megan, Patrick, and Olivia — and are proud to say that five of them are active within the organization.
Steven Kiesendahl, the youngest son of Harry and Mary, is the Director of Sales at Woodloch. Steven attended the University of Scranton with a degree in business administration. Steven's critical role has kept the Woodloch Pines at a record breaking annual occupancy rate of over 85%.
Call 570.685.8000 for information.