Woodloch's Blog
Keep up-to-date with all things Woodloch on our blog featuring exclusive recipes, heartwarming stories, lifestyle content, contests and more.
---
MEET THE TEAM: Sloaney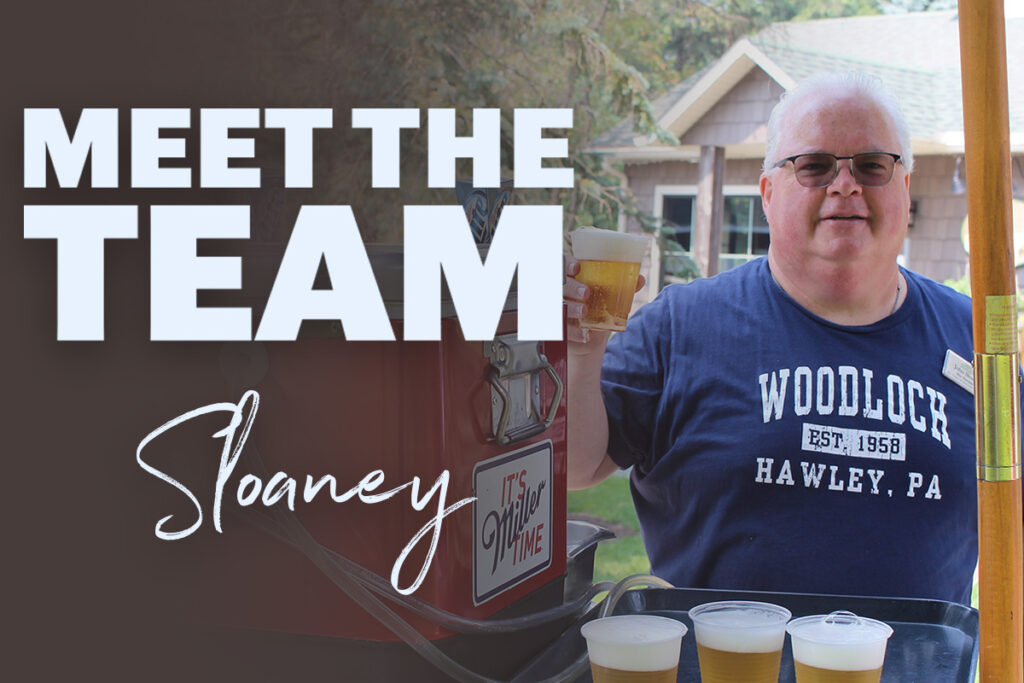 Learn a little more about the wonderful folks working on our team! John "Sloaney" Sloane is our Bar Manager- he has worked at Woodloch for over 40 years in our bar and other various departments. Here is just part of his story!
Take us to the beginning- how did you start working at Woodloch?
I heard about Woodloch when I was about 14 years old. My parents had a summer home in Rowland, Pennsylvania and everyone worked at Woodloch that I became friends with. So, I went up there one day and said, "I'm looking for a job." They rang the bell and JK (John Kiesendahl) came out. He was the dining room manager at the time. He asked me about 4 questions, including "are you able to work weekends" which I said yes, and "…are you available to work tonight?" I checked with my parents (who were in their running Chevy station wagon at the time) and told him I could work- he gave me a t-shirt and I was off to work, and never left. My parents headed to the Cuckoo's Nest restaurant for the night and picked me up later on.
When I started, I worked in the kitchen and the pantry. In between breakfast and lunch, you'd go out and do some landscaping. They gave me the lawn mower and had me police the grounds for any litter.
I worked in the dining room for a bit, then I was a cocktail waiter and bar back. I liked the bar because it changed every day, you never knew what to get ready for. It was always different and it still is. You never knew where the crowd was going to go. It made the days exciting and they went FAST.
What is your favorite part of the job?
My favorite part of the job is getting everything all set and organized and prepped and ready to go for a big crowd. When everything goes right, hearing positive comments and interacting with guests makes the night go a lot smoother.
My family has had all of our functions here. I met my wife as a guest. She always dreamed of having a wedding at Woodloch, so we did. Plus, the baptisms of both our children and all kinds of birthday parties. We had get togethers celebrating my mom and dad when they passed. Woodloch has been a part of so many of life's memories. Plus, meeting both guests and staff I still keep in touch with. It's like it's true when they say it's kind of like having a big family.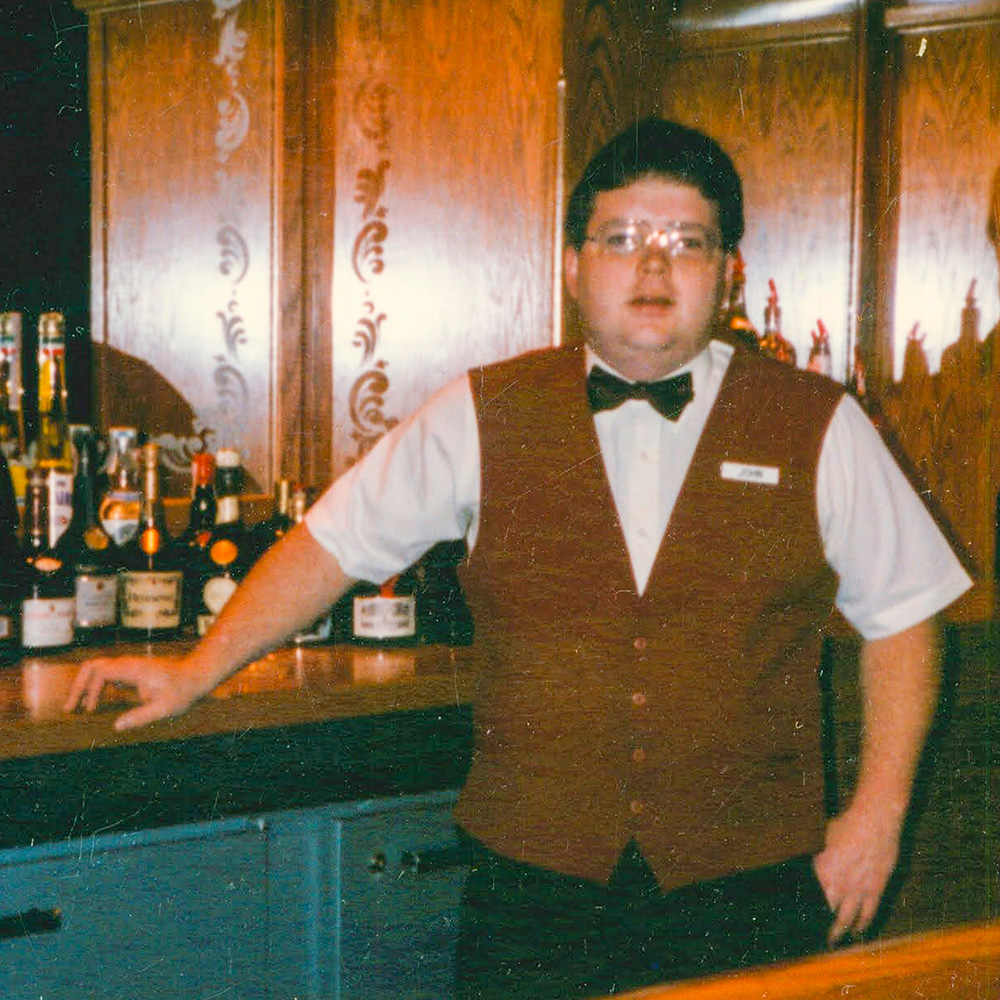 Outside of work, what are your favorite activities and hobbies?
I really enjoy the outdoors. After working indoors all the time (with the exception of pouring cookout beers) I enjoy being outside. Around the house, I do all kinds of landscaping things. I build rock walls, I dig flower beds, and then my wife plants stuff in them. And basically, it becomes a deer salad bar.
I also love going out and trying new restaurants, going out to check out new bars and coming up with new ideas. I'm constantly thinking about different things that could possibly be adapted to Woodloch. I also work as a consultant for restaurants, passing along my knowledge with bar layout and the new trends we see. It keeps my mind active!
The annual "Sloaney's St. Patrick's Day Parade" has become a bit of a local legend. How did it start?
My dad and I used to go to the big St. Patrick's Day parade in Manhattan. At the time, he was a teamster, and they used to march in the parade, but most of the time, we just wound up in a social club in Brooklyn with my sisters dancing for coins, and me telling jokes.
When my dad retired, he moved up to the area and became a full-time resident with me. He didn't feel up to heading to the big parade, so we put him in the back of my pickup truck, and we started at my old house down the road and stopped at Woodloch's pool and had a drink. Then we stopped at The Inn and had another drink. Then we stopped at the Nightclub for one more before heading home. The first year, it was just me, my wife Donna, and our dog. We called all the people along the lake road and they came out and sat by the end of their driveway. Since then, it's grown.
It's a good mixture of guests, staff and the local community. Everybody gets into it. It's uplifting, especially in March. We all have cabin fever after the winter. We pick a grand marshal every year- either someone from my family or a local celebrity of sorts. We're up to the 24th year, and I know a lot of people look forward to it!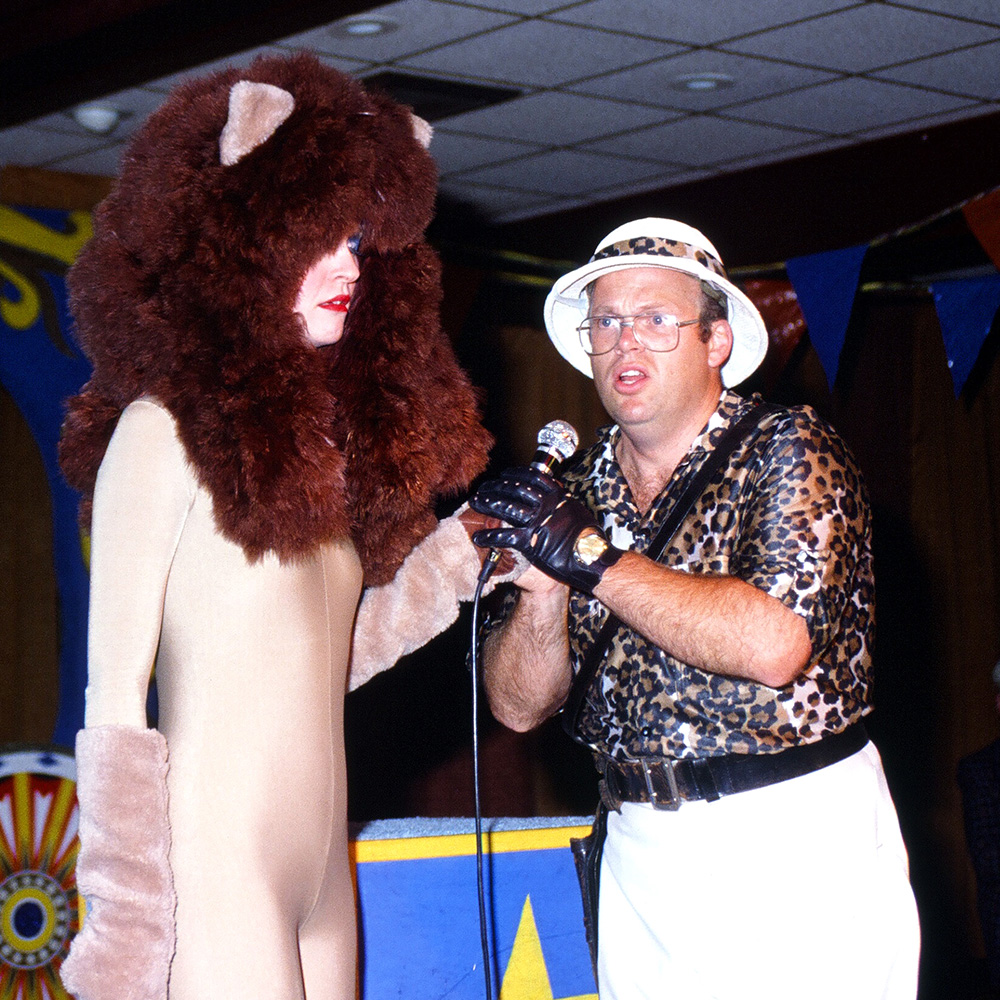 What's the most memorable Theme Night you can remember?
I remember the Circus Theme Night (1984). Dining room servers were dressed as clowns, bar staff were dressed as circus "roustabouts," and there was a big circus caravan with all kinds of characters in the parade.
We made one of our first kid's drinks that night- a Shirley Temple with a special balloon tied to the straw. The first night, we didn't anticipate the popularity and ran low on balloons early on. Aunt Mary and Uncle Harry jumped in to blow up more balloons for us to help keep up with demand. I apologized, but Harry was more than happy to help after seeing how well they sold! The Theme Show was memorable as well. There was even a trapeze set up right in the middle of our North Lodge. Lots of great fun with Joey Casella, Randy Barnes and the rest of "The Company."
Let's grab a drink at the bar – what are the three best beverages you'd recommend?
The first one that comes to mind is our Bloody Mary, which we use our own homemade Bloody Mary mix. We've tried using other mixes through the years, but our original Woodloch recipe is just too hard to top.
Wes, one of our bartenders, invented a new drink a few years back. It's a "Tiddlywink", with Absolut Raspberry, Malibu rum, lemonade, and cranberry juice. And of course my personal favorite- an ice cold bottle of Miller Lite.
Be sure to say hi to Sloaney on your next Woodloch visit!