Woodloch's Blog
Keep up-to-date with all things Woodloch on our blog featuring exclusive recipes, heartwarming stories, lifestyle content, contests and more.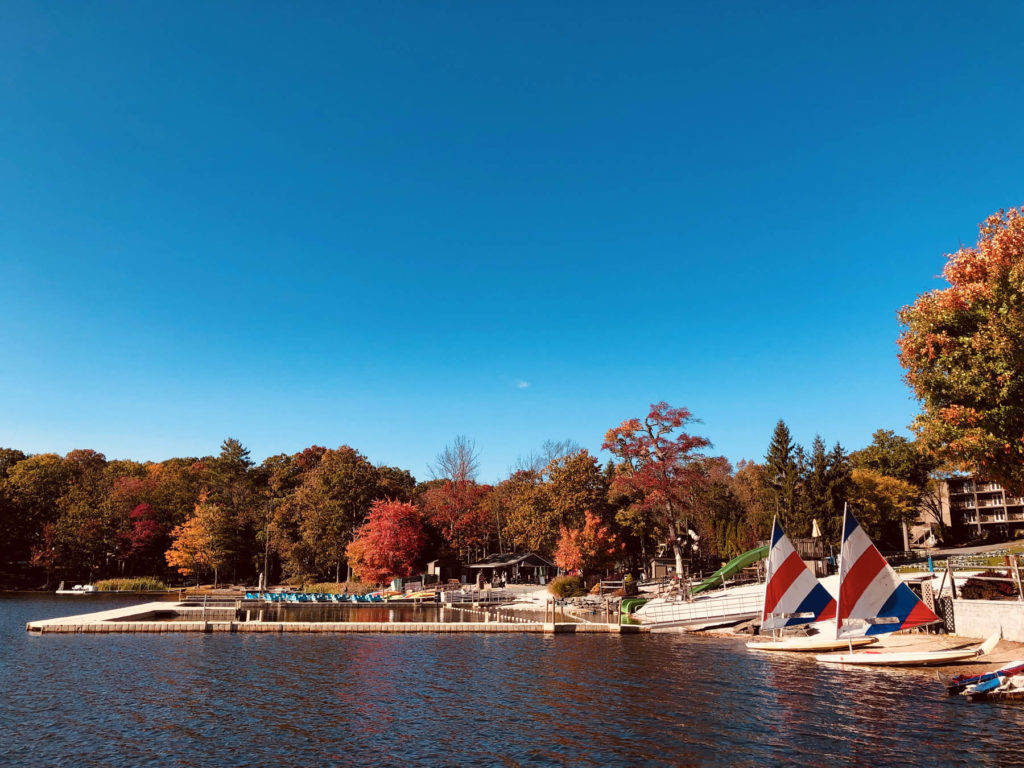 Pocono Mountains Fall Bucket List
Turn your attention to the prettiest season of the year, autumn. Whether or not you consider yourself an avid "leaf peeper," there's no denying the awe-inspiring beauty of the Pocono Mountains during fall's peak. Luckily for you and your family, Woodloch Resort rests along secluded Lake Teedyuskung in the heart of the Poconos.
When you visit our region, you'll be able to enjoy fall bucket list favorites such as hayrides, bonfires, apple cider sampling, and so many more family-friendly activities. Every autumn, the lush forestry that surrounds Lake Teedyuskung transforms into a beautiful meld of marigold, amber, crimson, and kelly green – creating a vibrant spectacle that you only find in a handful of regions worldwide.
A Family-Friendly Fall Bucket List
Bucket lists aren't just for us old folks anymore. Families, couples, and even teenagers are starting to hop on this fun trend. Creating a fall bucket list is perhaps the best way to plan, prepare, and get excited about an upcoming autumn escape into the Pocono Mountains! To ensure that your next vacation to Woodloch Resort is nothing short of flawless, we've pieced together a handy fall bucket list.
1. Hike at Bushkill Falls
A lot of families ask about a potential pit stop near Woodloch Resort, and we almost always reply, "Bushkill Falls." For those of you who don't know, Bushkill Falls is considered "The Niagara of Pennsylvania" because of the park's rushing waterfalls and immense popularity. There are four trails which vary in length and difficulty. We're partial to the two-hour, two-mile Red Trail which meanders past all eight waterfalls. The vibrant colors along Little Bushkill Creek "pop" while leaves slowly oscillate toward the earth, and the soothing sounds of the falls remind visitors that the Poconos are among the most spectacular sights in North America. Try forest bathing for the time fall here at Woodloch or when you visit Bushkill Falls, Promised Land State Park, or the Delaware Water Gap.
2. Apple Picking at Lakeland Orchard
If you're from the Scranton area, chances are that you've already crossed Lakeland Orchard & Cidery off of your fall bucket list. It's hard to top apple picking during autumn's peak, especially for families with young children. Simply drive up to this gorgeous orchard, purchase a peck bag, and start sauntering alongside thousands of ripe apples. The kids will have apple slices at school for weeks and perhaps a slice or two of pie when they get home.
3. Go For "Leaf Peeping" Cruise(s)
Fall foliage tends to peak in our region from the end of September to the end of November- what better time to gather up the gang and take a nice little joy ride? Two notable stretches of roadways are particularly famous for their brilliant canopies- Delaware Water Gap and "The Hawks Nest." But the reality is, beauty can be found on any little country back road you might find yourself on in the Poconos. More of the "sea-faring" type? There's only a little more time to hit the waters! Grab a kayak, rowboat or mini-sailboat and set sail on the river or lake near you.
Pick a beautiful day, pack some snacks (or better yet, stop for LUNCH), and soak in all the splendid sights you can!
4. Hit the Links with Autumn Golf
With cooler temperatures heading our way, there may not be a better time to enjoy golf than the Fall. With so many great courses in the region (including our very own Woodloch Springs), the biggest challenge you'll face outside of putting is picking where to play! Golfers of all ages are welcome to get swept away by Woodloch Springs' vibrant colors while challenging their game on our award-winning golf course.
5. Hawley's Hometown Hoedown!
Yee-hawww! Immerse yourself in the spirit of the season with local celebrations!" Visitors to "Hawley Harvest Hoedown" can experience everything from Lumberjack competitions, cornhole championships, shopping and dining through the downtown and lake district, pub crawls, and perhaps best of all, 100% authentic bluegrass music and dancing!
Not to be outdone, nearby Honesdale's "Harvest and Heritage Days" are perfect for enjoying the history and charm of small town America. Be sure to catch hayrides, friendly scarecrow contests between local businesses, food, railroad excursions, entertainment and more. Make your visit extra spooky with walking ghost tours!
Filed Under: fall Tagged With: best fall getaways, fall activities, fall bucket list, Haunted Hayride, pocono mountains