WOODLOCH: "The Beginning"
-shared by J. Ranner
"It's always good to remember where you come from and celebrate it. To remember where you come from is part of where you're going."
– Anthony Burgess
It's hard to believe, but 2021 will mark Woodloch's 63rd year in business! While our success is of course a result to our "family" of 1000 employees continually dedicating their smiles to guests new and returning alike, we are always humbled to remember where we came from. The early days of our resort laid the foundation for what we are today.
Like so many of the greatest tales ever told, this is a story of boy meets girl. The girl, in this case, was a young lady named Mary Mould.
Perhaps it was fate that Mary's family happened to spend summers at a friend's cabin, tucked away in the scenic outskirts of the Northern Pocono Mountains. Every season, the Mould family trekked their way to Lake Teedyuskung- the very same lake that Woodloch would eventually call "home."
As a teenager, Mary met a handsome football player at Baldwin High named Harry Kiesendahl. It wasn't long before puppy love blossomed into romance. Hearing all the stories of the wonderful place where Mary's family went to escape for family vacations, Harry had to see it for himself. With his beautiful girlfriend at his side (and with a few football buddies in tow), they ventured to Hawley to see this place for themselves.
It didn't disappoint.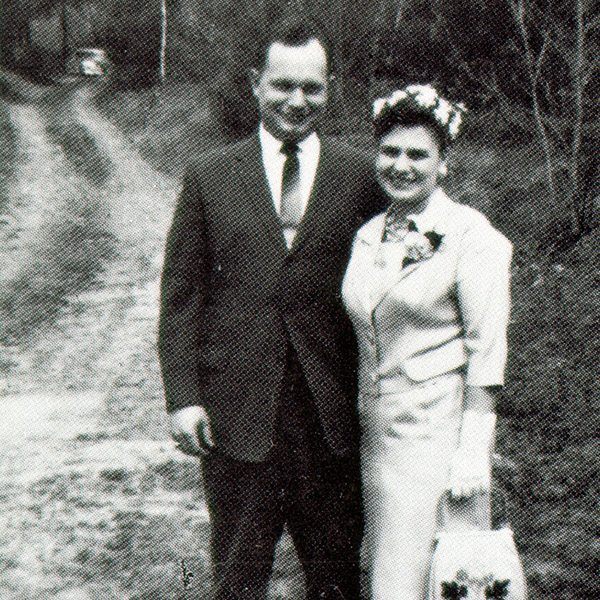 Heading back to the "real world" and a world in chaos, Harry enlisted in the U.S. Navy and was deployed. His trek was cut short by a torpedoed destroyer. As his
ship was towed back to harbor, life's priorities became clearer: he wanted Mary's hand in marriage.
With both of these "kids" being just 18, her parents thought maybe they ought to talk it over a while at- you guessed it- their summer cabin. While everyone
discussed matters, Harry and Mary snuck off one evening and placed two stakes into the ground. They vowed to return to Lake Teedyuskung someday. Somehow.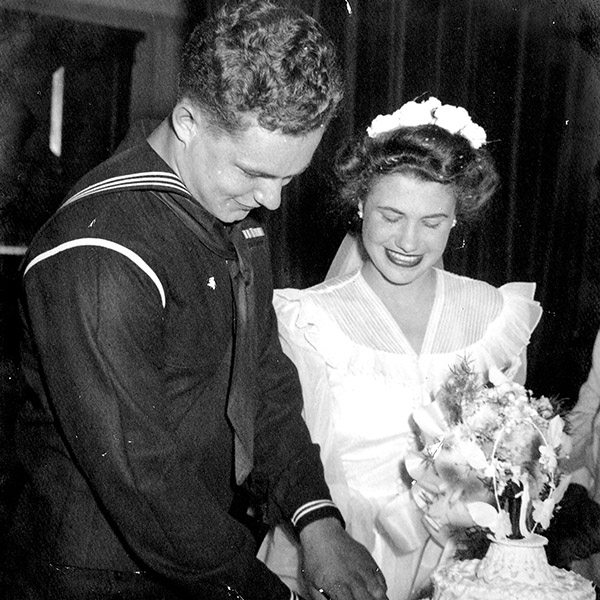 Ever the charmer, it was only a matter of time before Harry won her parent's stamp of approval. The two were joined in matrimony on September 9th, 1944. Sent back out into the throes of war, Harry sailed to the Pacific theater until the end of the war.
Returning back home, Harry looked for work to support his newlywed bride. He held jobs as a milkman, busboy, Good Humor man, and even owned a diner- but none of these occupations ever truly felt like a life to hang his hat on.
Something greater was out there on the horizon.
The Kiesendahl family expanded with the birth of John in 1946, followed by Nancy, then baby Steven. When the hustle and bustle of Long Island life got to be a little much, the Kiesendahls did what the rest of us do when we need to recharge- they took family trips!
Remembering the majestic beauty of the Poconos, as well as the close proximity to home, made it easy for them. Along with their high school friends and neighbors, the Kranich family, the entourage made their way to Split Rock Resort. Feeling captivated and delighted by the spirit of the hospitality industry, the seed had been planted for a big change in life and location.
Harry and Mary began combing real estate opportunities in the newspaper. One particular listing was spotted in the New York Times in 1958. A small 12-room boarding house by a lake had just hit the market with an asking price of $45,000 (roughly $400,000 in today's currency). It was located just outside of the rural hamlet of Hawley, Pennsylvania…
…as fate would have it, on the very same lake where the stakes were planted all those years ago.