Woodloch's Blog
Keep up-to-date with all things Woodloch on our blog featuring exclusive recipes, heartwarming stories, lifestyle content, contests and more.
The Woodloch Cookbook: Recipes to Warm Your Winter!
It seems like just yesterday the autumn foliage was glimmering in brilliant shades of amber, fire red and golden yellow and I all I kept hearing about was how excited everyone was for "Pumpkin Latte Season" at their neighborhood Starbucks.
And now, times have changed.
Today, I am working from home as last night's snowfall has made a mess of our local country roads. Sleigh riding was great fun as a kid- not so much in a vehicle as an adult. Which makes me reminisce of the snow days of old. How I have missed them!
When I wasn't working on a school project that I had most certainly banked on completing due to a snow day, I used to love spending hours outside sledding around. When it got too cold I'd fire up my loyal Super Nintendo. And slowly but steadily I'd find ways to drive my mom insane. And the best way to deal with all the added stress? Therapeutic cooking.
I don't believe my mom is alone. I think cooking works as a nice release for many that are stressed out- and it also doubles as an enjoyable activity in itself. So back by popular demand (and with the recipes YOU asked for!) please enjoy these wintry recipes to help warm up your season!
Woodloch Pines Chicken Soup
(just in case you happen to catch cold!)
INGREDIENTS:
• 1 ½ quarts chicken stock
• 6 chicken bouillon cubes
• 5 tbs. rice
• ¼ cup butter
• 7 tbs. flour
• 2 c. cooked chicken, cut up
• 2 tbs. chopped parsley
INSTRUCTIONS:
Cook rice, set aside. Bring chicken stock and bouillon cube to boil; reduce heat to low. Heat butter in small pan; stir in flour until smooth. Stir mixture into hot soup until desired consistency is achieved. Add cooked rice and cut-up chicken. Garnish with chopped parsley.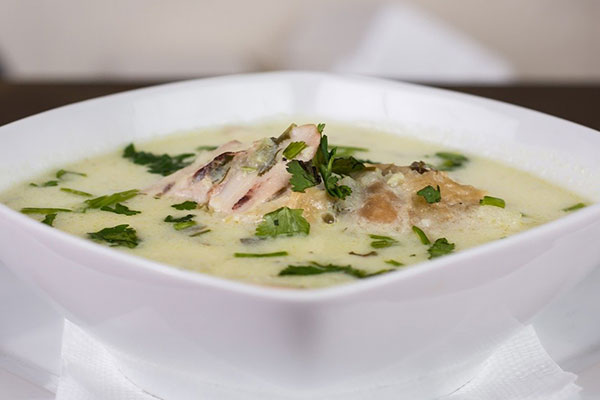 Woodloch's Famous Chili
(just in time for Super Bowl Sunday!)
INGREDIENTS:
• 2 tbs. lard / bacon fat
• 3 lbs. lean beef chuck, cut into ½ in cubes
• 2 onions, coarse chopped (1 ½ cups)
• 6 tbs. pure ground hot chili
• 3 tbs. cumin
• 2 tbs. pure ground mild chili
• 1 ½ tsp. minced garlic
• 1 tsp sea salt
• ½ tsp freshly ground black pepper
• Water
• 1 ½ c. beef broth
• 3 mild or hot green chilis
• 1 large chopped tomato
• 1 tbs. crushed chili Caribe or red pepper flakes, to taste
• 1 tsp. dried oregano, soaked in ¼ cup warm beer
• 1 tbs. cider vinegar
• 1 tbs. tortilla flour or cornmeal
INSTRUCTIONS:
Melt lard / fat in large Dutch oven or heavy pot. Add meat in 2 batches if necessary & cook on all sides until it loses its pink color. Add onions, ground hot chili, cumin, ground mild chili, garlic, salt and black pepper. Add water to barely cover the meat, bring to a boil, reduce heat and simmer uncovered 1 to 1 ½ hours until meat is almost tender, adding more water if needed. Add 1 cup of beef broth to the chopped chilis, tomatoes, chili Caribe, oregano-beer mixture & vinegar. Simmer uncovered for 30 minutes, stirring often. Stir tortilla flour into remaining ½ cup beef broth, then stir into chili & simmer 15-20 minutes until meat is very tender and sauce is red-brown.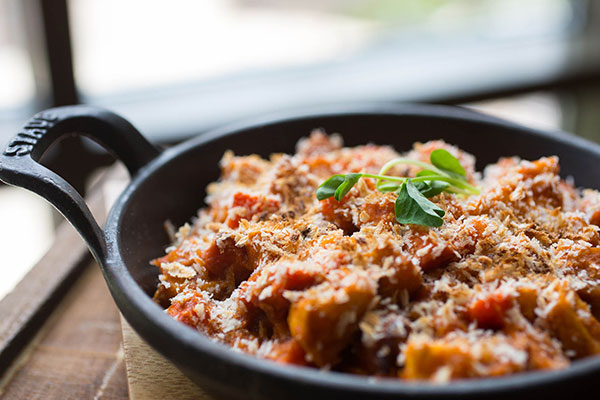 Woodloch's Streusel Cake
(Great for breakfast, dessert… and any other time of the day.)
STREUSEL CRUMB INGREDIENTS:
• 4 oz. butter
• ½ tsp salt
• 1 2/3 cup granulated sugar
• 4 tsp. cinnamon powder
• ½ c. shortening
• ½ c. brown sugar
• 1/3 tsp vanilla
• 5 ½ c. flour
INSTRUCTIONS: Mix all ingredients except flour together until creamy. Add the flour then mix again. Mixture will become crumbly.
CAKE INGREDIENTS:
• 1 2/3 c. sugar
• 6 oz. butter
• ½ tsp. salt
• 5 lg. eggs
• 1 1/3 c. milk
• Vanilla to taste
• 3 ½ c. cake flour
• 1 tbs. baking powder
INSTRUCTIONS: Place butter and sugar in a bowl and beat until creamy. Add eggs, vanilla and milk and mix. Add remaining ingredients and continue mixing until smooth. Add half of the batter to your 9" x 13" cake pan. Sprinkle lightly with the crumbs. Using measuring cup, pour remaining batter over the crumbs. Top cake with more streusel crumbs before baking. Place in oven at 375 degrees and bake for 35 minutes. After baking, let cool before cutting into 2 inch squares and serving.
Filed Under: Cooking, food, Holiday Cooking, Holidays at Home, Recipes, Uncategorized Tagged With: cooking, Recipes